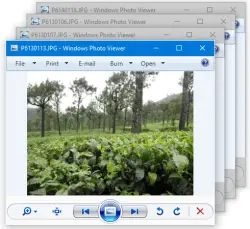 You may be wondering why Windows Photo Viewer, which previously opened images in a single window instance when multiple files were selected and previewed, is now opening up separate windows or instances–one for each image file selected.
The Windows Photo Viewer multiple instances problem usually seen in Windows 10 or 1 is not due to any design change, and no functionality is broken. It's a simple file type association setting and fixing it that can straighten things up.
Selecting multiple files in a folder, right-clicking, and selecting preview should open a single Windows Photo Viewer window, and the user can cycle through the chosen set of images using the arrow keys. This is the expected behavior, and that's how Windows Photo Viewer worked in the earlier OS.
You don't have to read the next section if you're not looking for an explanation for this problem. Proceed straight to the Solution part.
Read more