Microsoft software downloads page offers you the Media Creation Tool (MCT), which can be used to upgrade Windows 10, download Windows 10 ISO locally or create a USB installation drive. MCT is the officially recommended way to get a copy of the latest Windows 10 ISO.
Though MCT is the only advertised way to get the Windows 10 ISO, there are other ways to directly download the Windows 10 ISO. This post describes how.
Download Windows 10 ISO directly, without Media Creation Tool
There are three options discussed. The first option doesn't involve any third-party tool. By changing the browser user-agent string, you can reveal the Microsoft site's ISO direct download link.
The other methods involve the usage of 3rd party tools named Rufus or HeiDoc ISO downloader.
Direct download using your web browser
By changing your web browser's user-agent string (to mimic a mobile or tablet), Microsoft's Windows 10 download page can be made to reveal the direct download links for Windows 10 ISO for both x86 and x64 versions.
A web browser uses the user agent string to tell the website information about the browser and operating system. This allows the website to customize (dynamic) content for the capabilities of a particular device. For instance, a website may automatically render a mobile version of its pages if it detects the browsing from a mobile or tablet.
Change the "User-Agent" in (old) Edge or IE
Open Microsoft Edge (legacy) or IE and visit the following Microsoft link:

https://www.microsoft.com/en-us/software-download/windows10

Press F12 to open the Developer Tools window.
Select the "Emulation" tab and change the "User agent string" to Apple Safari (iPad)

Fig 1: Change User-agent string in Microsoft Edge
Change the User-agent in Google Chrome and Microsoft Edge Chromium
If you're a Google Chrome user, here is how to change the browser user agent. The instructions below also apply to Microsoft Edge Chromium.
Open Google Chrome, press F12 to open Developer Tools.
Click the ellipsis (button with three dots on the top-right of the Dev. Tools window)

Click "More tools" and select Network conditions.
Under "User agent," uncheck the Select automatically option.
Select the Safari – iPad iOS xx from the User agent drop-down list.

Change the User-agent string in Google Chrome and Microsoft Edge Chromium
Windows 10 ISO Direct Download Link(s) is now revealed!
The current web page will refresh automatically, rendering content for the chosen user-agent or device (iPad). If it doesn't automatically refresh, refresh the page manually. You'll now see the "Select Edition" drop-down box.
Select Windows 10 from the drop-down, and click Confirm. The Windows 10 ISO will include both Windows 10 Home and Windows 10 Pro.
Select the product language from the drop-down list, and click Confirm.

You'll see the download button for Windows 10 64-bit as well as Windows 10 32-bit ISO. The download URLs will automatically expire after 24 hrs. Click on the link to download it, or if you want to share the URL with someone, right-click on the link and copy the target URL.
Windows 10 October 2020 (version 20H2) is the latest version, and here are the ISO file sizes.
Windows 10 October 2020 (version 20H2) ISO file sizes.
64-bit (x64) 20H2 Update ISO file size is 5.7 GB
32-bit (x86) 20H2 Update ISO file size is 4.2 GB

---
Using Rufus to Download Official Windows 10 ISO Images
As you've seen, the Windows 10 ISO files can be downloaded using the Media Creation Tool or by changing the browser user-agent and download it using your web browser.
There is another excellent way to download official Windows 8.1 and Windows 10 ISOs from Microsoft servers. This post explains how to use the 3rd party utility named Rufus to download the Windows 8.1 and Windows 10 ISO images.
Rufus is an excellent utility that helps you create bootable USB flash drives from an ISO image. We've covered Rufus earlier in the article Create Bootable USB Flash Drive from ISO Using Windows USB/DVD Download Tool or Rufus.
Rufus Version 3.5 (2019.03.28) and higher versions have the feature to download official retail Windows 8.1 or Windows 10 ISOs. Follow these steps to download the Windows 10 ISO files:
Download Rufus portable version and run it.
Click the down arrow next to the SELECT button, and choose DOWNLOAD


Note: If the DOWNLOAD option is missing, then open Rufus settings, and set the update check option to Daily, Weekly, or Monthly.

If it's set to Disabled, the DOWNLOAD button would be missing.

Click the DOWNLOAD button
Select the Operating System, Release (build), Edition, Language build, and the bitness


If you want to download the ISO using your browser, enable the "Download using a browser" checkbox. The advantage of this option is that you'll know the direct download URL of the ISO, and you can share the link with others.

If the "Download using a browser" checkbox is not chosen, the Rufus utility downloads the ISO and shows you the progress bar on the utility's main screen.

Click on the Download button.
Using Rufus, you can download any release of Windows 10, starting from version 1507 (Build 10240) to the latest build.
Whereas the Windows 10 Media Creation Tool always downloads the latest available ISO, and the user has no option to choose previous releases/builds.
If you use the browser user-agent method to download the ISO images, you may see only the last two Windows 10 releases/builds.
Rufus is an easy way to download the required Windows 10 ISO release from Microsoft's servers. And, using Rufus, you can create a bootable USB flash drive from ISO too!
---
Using the HeiDoc's ISO Download Tool
The Microsoft Windows and Office ISO Download Tool from Heidoc.net allows an easy and comfortable way to download genuine Windows 7, Windows 8.1, and Windows 10 disk images (ISO) directly from Microsoft's servers, as well as Office 2010, Office 2013, Office 2016, Office 2019, Expression Studio and Office for Mac.
"In the past, Microsoft provided disk images for many of their products through their subcontractor "Digital River." These downloads were pulled in early 2014. Afterward, Microsoft made a limited selection of downloads available on their TechBench site. This tool is based on TechBench, and makes a range of hidden products available for download."
Download Windows-ISO-Downloader.exe (a digitally signed executable) from Heidoc.net, and run it.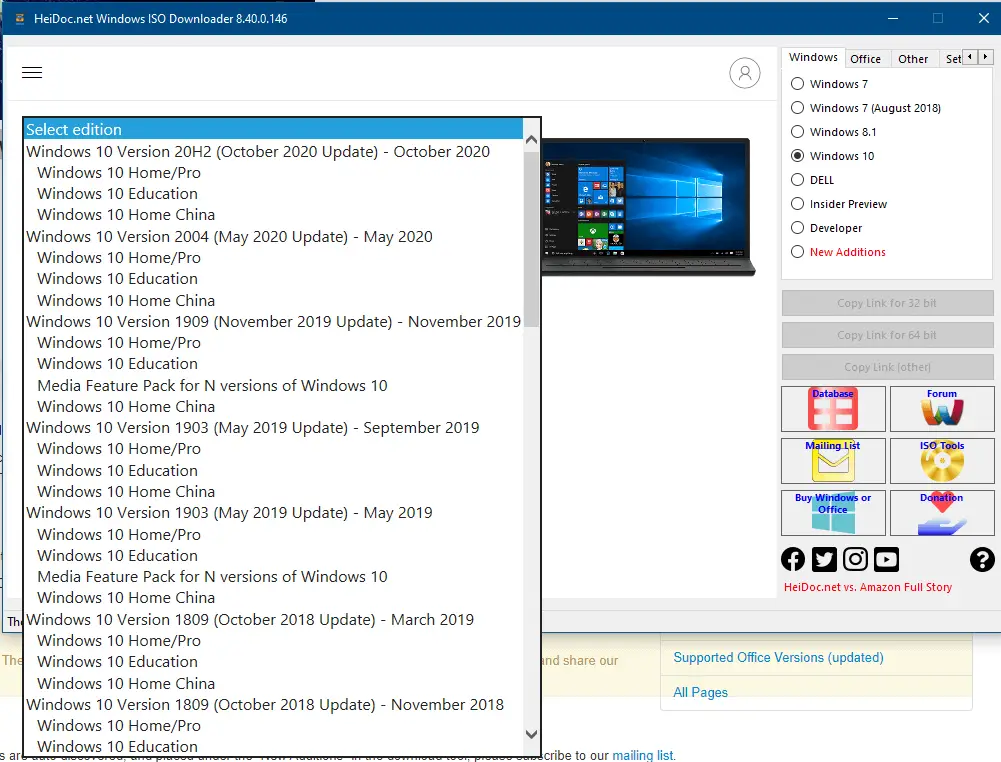 This software can download any version of Windows 10 or Office. In addition, you can download* the following ISOs as well:
Windows 10 Insider builds.
Dell OEM image for any model from any Dell Desktop and laptop series.
Developer tools (WDK, SDK)
Windows Admin Center
Windows 7
Windows 7 (Aug 2018)
Windows 8.1
Windows Preinstallation Environment
*Note that the ISO images are hosted at the respective manufacturer's (Microsoft, Dell, etc.) servers. HeiDoc.net doesn't host them.
For each item listed, you can pick the particular version you need from the list of releases.
Also, I could download the OEM images for my Dell Vostro 3470 using this excellent tool.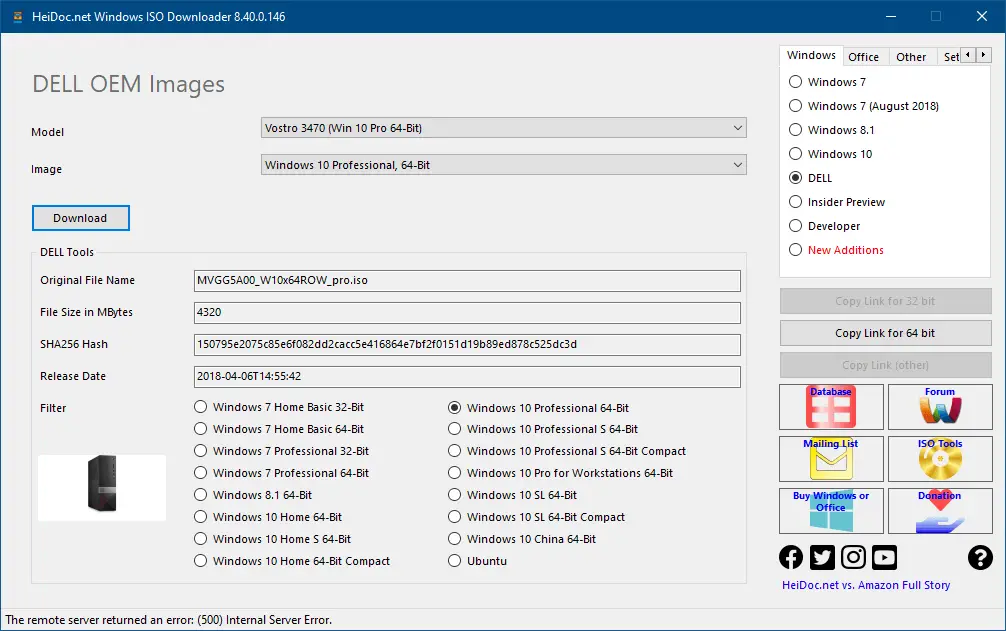 HeiDoc's ISO downloader tool has become my favorite ISO downloader. Rufus comes next; the excellent Rufus utility was originally meant for a different purpose anyway.
That's how you download the Windows 10 ISO directly without using the Media Creation Tool.
---
One small request: If you liked this post, please share this?
One "tiny" share from you would seriously help a lot with the growth of this blog. Some great suggestions:
Pin it!
Share it to your favorite blog + Facebook, Reddit
Tweet it!
So thank you so much for your support, my reader. It won't take more than 10 seconds of your time. The share buttons are right below. :)
---
About the author
Ramesh Srinivasan founded Winhelponline.com back in 2005. He is passionate about Microsoft technologies and he has been a Microsoft Most Valuable Professional (MVP) for 10 consecutive years from 2003 to 2012.