When you open the Services MMC (services.msc) and double-click Windows Update service properties, the Start and Stop buttons are grayed out. Also, you may be unable to change the service Startup type.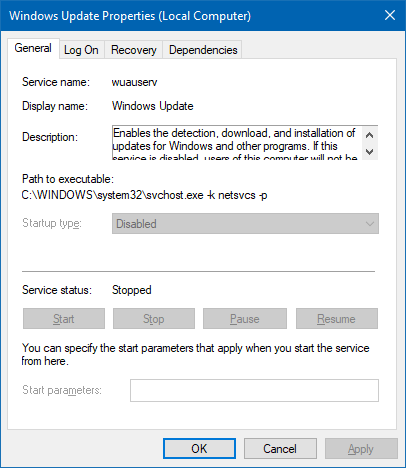 As a workaround, you can change the service startup and other settings using the registry or run the SC.exe command-line tool under the SYSTEM account and modify the service settings.
This article tells you how to make the Windows Update service configurable (by administrators) using the Services MMC.
Windows Update Service Options are Grayed Out
The Windows Update service properties may be grayed out due to corrupt service security descriptors or tightened permissions. To reset the Windows Update service security configuration, follow these steps:
Open an admin Command Prompt window and run the following command:
sc.exe sdset wuauserv D:(A;;CCLCSWRPLORC;;;AU)(A;;CCDCLCSWRPWPDTLOCRSDRCWDWO;;;BA)(A;;CCDCLCSWRPWPDTLOCRSDRCWDWO;;;SY)

The above command-line fixes the permissions for the Windows Update (wuauserv) service.
Restart Windows for the change to take effect.
Additional Information
The security descriptor (SDDL) D:(A;;CCLCSWRPLORC;;;AU)(A;;CCDCLCSWRPWPDTLOCRSDRCWDWO;;;BA)(A;;CCDCLCSWRPWPDTLOCRSDRCWDWO;;;SY) is the default security descriptor for Windows Update service in Windows 10 and Windows 11.
The above SDDL translates to the following permissions (Discretionary Access Control List — DACL):
[0] ACCESS_ALLOWED_ACE_TYPE: NT AUTHORITY\Authenticated Users
SERVICE_QUERY_STATUS
SERVICE_QUERY_CONFIG
SERVICE_INTERROGATE
SERVICE_ENUMERATE_DEPENDENTS
SERVICE_START
READ_CONTROL
[1] ACCESS_ALLOWED_ACE_TYPE: BUILTIN\Administrators
[2] ACCESS_ALLOWED_ACE_TYPE: NT AUTHORITY\SYSTEM
It denotes that the "Administrators" group and the SYSTEM account have full control ("SERVICE_ALL_ACCESS") over the service. Authenticated Users have the right to query or start the service only.
Launch Services MMC and see if you can configure the Windows Update service now.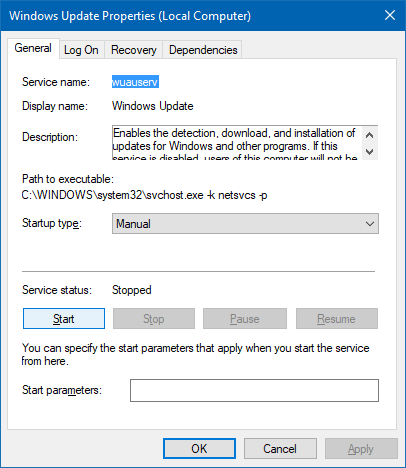 Note: if the Windows Update service security descriptors are corrupt or incorrect, the Windows Update Troubleshooter tool will offer to repair the problem automatically.
---
Workaround: Enable the service via the registry
If the registry keys for the Windows Update service have the default permissions, you can enable the Windows Update via the registry.
Open an admin Command Prompt
Copy the following command and paste it into the CMD window:

reg add HKLM\SYSTEM\CurrentControlSet\Services\wuauserv /v Start /d 3 /t REG_DWORD /f

(You should see the message "The operation completed successfully.")

Restart Windows.
Editor's note: You may also open Regedit.exe and set the Start value data to 3 in the above registry location. If you encounter an Access is Denied error, you need to take ownership of the registry key to modify the value. See the article Take Ownership of a Registry Key And Assign Full Permissions for more information.
---
One small request: If you liked this post, please share this?
One "tiny" share from you would seriously help a lot with the growth of this blog. Some great suggestions:
Pin it!
Share it to your favorite blog + Facebook, Reddit
Tweet it!
So thank you so much for your support. It won't take more than 10 seconds of your time. The share buttons are right below. :)
---