Windows 10 Fall Creators Update introduces a new delivery optimization setting wherein you can throttle the Windows Update background downloads. Windows 10 by default dynamically optimizes the amount of bandwidth used to download (and upload) Windows and App updates. You can see the report on the Windows Update Activity Monitor page.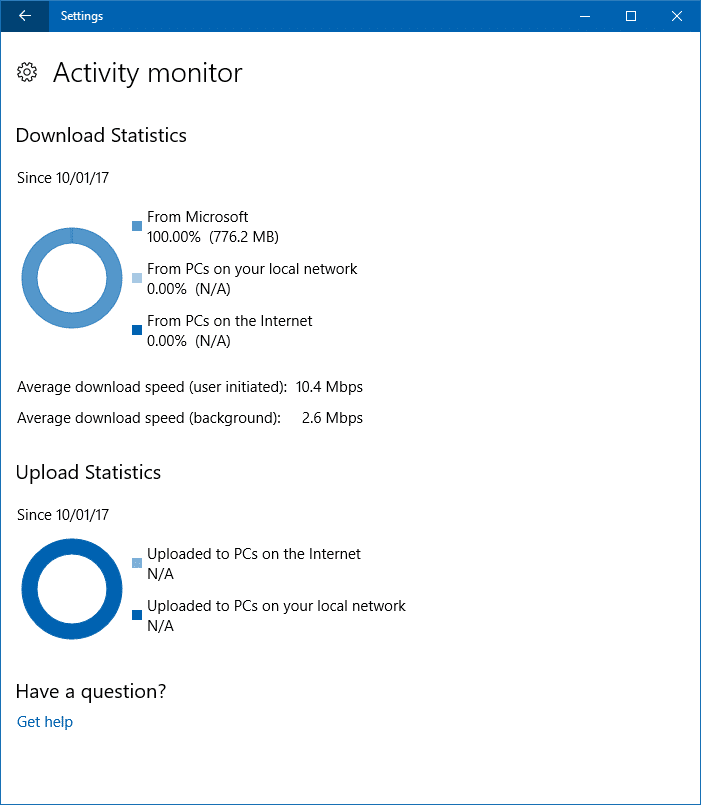 You can see the bandwidth/download speed for user-initiated Windows Update download (10.4 Mbps) as well as background downloads (2.6 Mbps). It appears that Windows 10 by default uses only 25% of the total available bandwidth for background updates. If you want to further increase or decrease the bandwidth used for downloading background updates, you can set it via the Advanced Options.
Limit Bandwith for Background Windows Updates & App Updates
Click Start → Settings → Update & Security → Windows Update → Advanced Options → Delivery Optimization

To view the Windows Update activity monitor, click the Activity monitor option on that page.

Click Advanced Options

Windows Update Advanced Options – Screenshot from a v20H2 computer.

Limit bandwidth for background Windows updates and app updates. In the Advanced Options page, enable the Limit how much bandwidth is used for downloading updates in the background checkbox.
You can set the bandwidth limit in Mbps manually, or in percentage by enabling the Percentage of measured bandwidth option.
The bandwidth limit is applicable for Microsoft/Windows Store automatic App updates as well.
Microsoft Store very slow download speeds
Whenever you try to download a huge app or game from the Windows Store, download speed may be limited to half or even less of your total supported bandwidth. For instance, when you use a browser to download a game, it downloads at the maximum possible speed. But, Microsoft Store may download apps or games at a very slow rate, in Kbps sometimes.

To speed up downloads in the Microsoft Store:
In the Delivery Optimization → Advanced Options page, enable Limit how much bandwidth is used for downloading updates in the background and then push the slider to 100%
Your Store app should now download without utilizing the Windows 10 Delivery Optimisation feature which is limiting your download speed by around 50% of your bandwidth.
As you see on that page, you can control the "Upload" bandwidth and set a Monthly upload limit. When this threshold is reached, your system will stop uploading updates to other PCs on the Internet. Note that the "upload" settings apply if you've enabled Allow downloads from other PCs option in the Windows Update Delivery Optimization page.
The "Allow downloads.." setting when enabled, sends parts of previously downloaded Windows updates and apps to PC on your local network or on the Internet (depending upon the option you opted for). Refer Windows Update Delivery Optimization page for more information.
If Allow downloads from other PCs is On, then select the PCs on my local network option. This would improve the Store app download speed.
A Windows 10 user commented:
I was getting a horrible transfer rate (<8Mbps on 1Gbps fiber). I tried the normal stuff, passing/restarting, restarting OS, none of it worked.
I've noticed that the Windows Store download was using the Windows Update port (TCP 7680). I changed the Windows 10's Delivery Optimization settings under "Allow downloads from other PCs" to only "PCs on my local network" (was "…and PCs on the Internet"). As soon I flipped it, the transfer rate changed to 400 Mbps.
Some program(s) eating internet bandwidth?
When your internet is painfully slow, know that some program is eating away the bandwidth without your consent. You can fire up the native Resource Monitor utility to identify the culprit. See Which Program is Using all of Your Internet Bandwidth? Use Resource Monitor to Find it.

With Windows Update bandwidth throttling in place, most likely the culprit will not be Windows 10.
---
One small request: If you liked this post, please share this?
One "tiny" share from you would seriously help a lot with the growth of this blog. Some great suggestions:
Pin it!
Share it to your favorite blog + Facebook, Reddit
Tweet it!
So thank you so much for your support. It won't take more than 10 seconds of your time. The share buttons are right below. :)
---