The Windows Features dialog box (optionalfeatures.exe) lets you add or remove additional or optional Windows features. For instance, you can remove Media Features → Windows Media Player using the Windows Features ("Turn Windows Features On Or Off") dialog box if you no longer plan to use WMP.
Sometimes, the "Turn Windows Features On Or Off" box may be completely empty.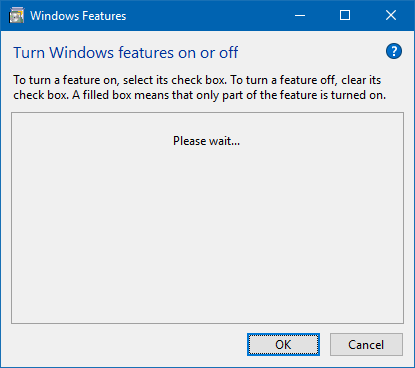 If the optional Windows features list doesn't populate even after waiting for several minutes, here is how to fix the problem.
[Fix] Turn Windows Features On Or Off is Blank in Windows 10
Step 1: Start the Windows Modules Installer service
Press WinKey + R to open the Run dialog
Type services.msc and press ENTER. This will open the Services console.
Double-click Windows Modules Installer service.
Set its Start type to Automatic.
If the Windows Modules Installer service is not running, click the Start button to start it.
Step 2: Delete the "StoreDirty" registry value
If you're using Windows 8, run this command. This command may not be necessary (or the Components branch be missing) if using Windows 10.
If the above steps don't help, it's possible that the system files or the Component Store that contains information about Windows components have been corrupted. Running the Sfc.exe and DISM commands as in Step 3 and 4 should fix the corruption.
Step 3: Run the System File Checker
The System File Checker is used to scan for missing or corrupted system files and restore them from the component store.
Open an elevated Command Prompt window.
Type the following command and hit ENTER:

sfc /scannow
If SFC is unable to restore the missing or corrupt system files due to component store corruption, proceed to Step 3.
Step 4: Repair the Component Store using DISM
In Windows 7 and earlier, you used the System Update Readiness tool to fix the corruption of system files or component store. In Windows 8 and Windows 10, we use DISM for that purpose. Run the following command for Windows 10:
Note: If the above steps don't help, you can run the DISM command mentioning the source image (fresh Windows 10 Install.wim) from the mounted ISO or DVD media matching the same Windows 10 build your system is running. For more information, check out article Repair Windows 10 Using DISM and SFC
Hope that fixes the empty "Turn Windows Features on or off" listing issue.
---
One small request: If you liked this post, please share this?
One "tiny" share from you would seriously help a lot with the growth of this blog. Some great suggestions:
Pin it!
Share it to your favorite blog + Facebook, Reddit
Tweet it!
So thank you so much for your support, my reader. It won't take more than 10 seconds of your time. The share buttons are right below. :)
---