Are you're receiving the following error message or similar when playing a audio or video file in your Groove app, Windows Media Player or the Movies & TV app in Windows 10?
Can't play. Another app is controlling your sound at the moment. To listen here, close that app and try again. Error 0xc101009b (0xc00d4e85)
This problem happens if a current application is exclusively using your audio device. Here is how to fix such problems. Proceed to next step if one doesn't fix the problem.
Step 1: Stop and Restart the Audio Service
1. Right-click Start, click Run.
2. Type Services.msc and press ENTER
3. Right-click Windows Audio and click Restart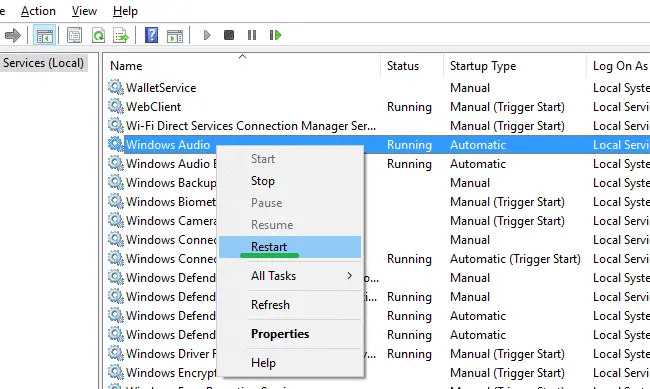 4. Close the Services console
Step 2: Disable and re-enable the audio device
1. Right-click Start, click Device Manager.
2. Expand "Sound, video and game controllers"
3. Right-click on the audio hardware, and click Disable device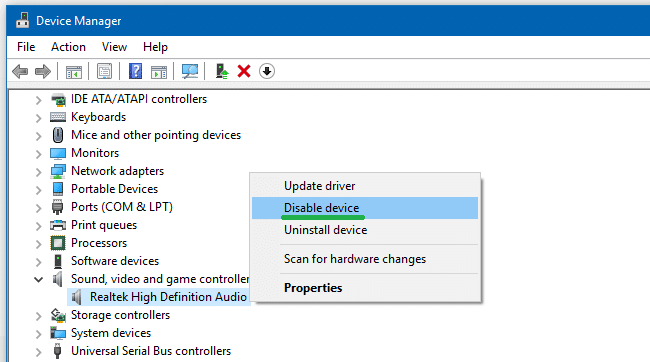 4. Click Yes when you see this prompt:
Disabling this device will cause it to stop functioning. Do you really want to disable it?
5. Right-click on the audio hardware, and click "Enable device"
Step 3: Prevent apps from exclusively using the audio device
1. Right Click on the speaker icon in the taskbar.
2. Click on Playback devices.
3. Right-click on the playback device from the list of devices, and select Properties.
4. Select the Advanced tab.
5. Remove the check from the box next to "Allow applications to take exclusive control of this device".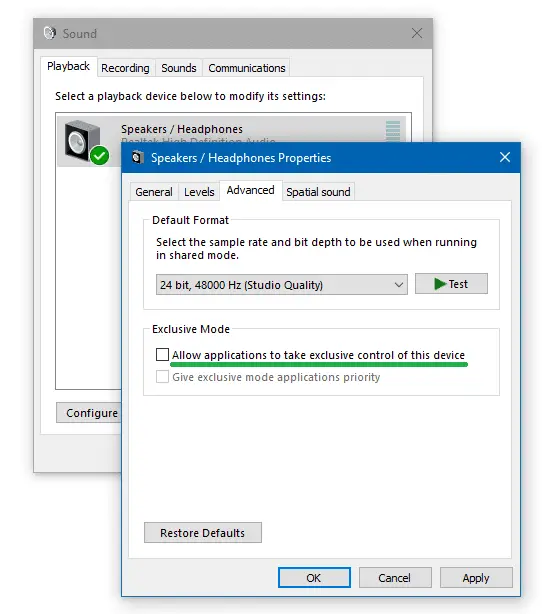 6. Restart the computer.
Step 4: Run the Audio Troubleshooter
1. Right-click Start, click Run.
2. Type the following command and press ENTER:
msdt.exe /id AudioPlaybackDiagnostic
3. This starts the Audio troubleshooter tool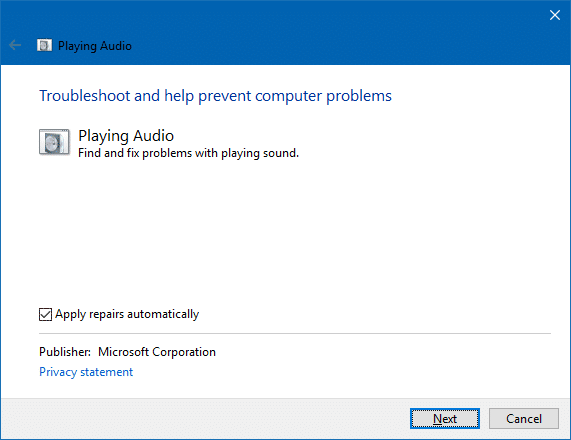 4. Click Next, and follow the onscreen instructions to complete troubleshooter.
Step 5: Clean-boot Windows to isolate the offending program
If the problem still happens after following Steps 1 through 4, then it's time to isolate the application causing the trouble.
MS Office Upload Center locks the audio device?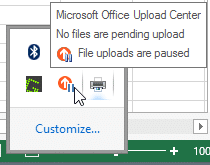 For Office users, pausing uploads in the Microsoft Office Upload Center helped. This program which may be using your audio exclusively. Microsoft Office Upload Center icon can be found in the Taskbar's notification area. If you're unable to stop it completely, simply pausing uploads may bring back the audio in your system.
If you don't have Office installed, then it could be another app causing this trouble. Perform a clean boot troubleshooting or eliminate all startup applications to test. See article How to perform a clean boot in Windows. Alternately, to clean boot Windows using the Microsoft SysInternals Autoruns utility, see post Clean Boot Windows Using the Autoruns Utility. Autoruns is a powerful tool. You must be sure not to accidentally disable entries from the "Drivers" tab in Autoruns.
---
One small request: If you liked this post, please share this?
One "tiny" share from you would seriously help a lot with the growth of this blog. Some great suggestions:
Pin it!
Share it to your favorite blog + Facebook, Reddit
Tweet it!
So thank you so much for your support. It won't take more than 10 seconds of your time. The share buttons are right below. :)
---