After installing Windows 10, you may notice that some of your files and folders show up with a double blue arrows icon at the top. This double blue arrows overlay icon is seen if the files and folders are compressed (NTFS compression), and there is nothing to worry about.
This post tells you how to hide or remove the double blue arrow icons on folders or files in Windows 10.

Cause
When you enable NTFS compression for a file or folder, the blue double arrows icon overlay appears on the top right corner of the file or folder. This is to indicate to the user that the folder or file is compressed.
Windows 10 may have compressed your files and folders
It's possible that Windows 10 has compressed the folders in your user profile folder to free up enough disk space to install important updates. This is especially true if you have a low-capacity hard drive, your system partition size is small, or the hard drive is low on disk space.
For example, the Windows 10 reliability update does that.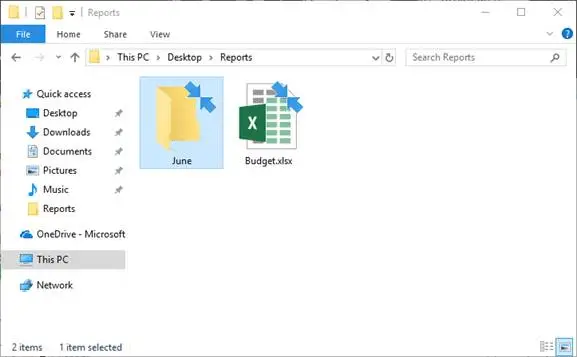 To help free up disk space, this update may compress files in your user profile directory so that Windows Update can install important updates. When files or folders are compressed, they appear as having two blue arrows overlaid on the icon. Depending on your File Explorer settings, you may see icons that look larger or smaller.
So, that's the reason why your desktop shortcuts (e.g., Microsoft Office application shortcuts) are compressed, but the corresponding executables in Program Files aren't compressed.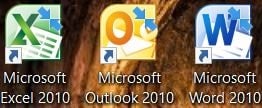 Additionally, Window 10 also compresses certain files and folders in your Windows directory. For example. the Windows\logs\CBS and Windows\Panther folders are compressed.

Remove the Two Blue Arrow Icon Overlay
To remove the 2 blue arrows icon, you have two options:
Option 1: Disable compression for that folder or file
Option 2: Remove the blue double arrows overlay via registry, without disabling compression.
1) Remove blue arrows by disabling compression for the file or folder
To remove the blue arrows icon on a file or folder, disable compression via the file or folder's properties dialog.
Right-click on the file/folder for which you have to disable compression, and click Properties.
On the General tab, click the Advanced button.
In Advanced Attributes, deselect "Compress contents to save disk space."

Click OK.
Click Apply or OK on the Properties window.
The file or folder will now be uncompressed, and the two blue arrow icon overlay will be removed.
---
2) Remove the double blue arrow icon overlay without disabling compression
Disabling NTFS compression may not always be the best solution, especially if you have limited hard disk space. In that case, you may use the following registry edit (cosmetic) to simply hide the annoying double blue arrow icon for compressed files and folders.
(The registry edit below overrides the compressed files overlay shell icon #179, similar to the shortcut (.lnk) files overlay registry edit.)
Download blank_icon.zip and extract blank.ico to a folder — e.g., C:\Windows\blank.ico
Click Start, type regedit.exe and press Enter
Navigate to the following registry key:

HKEY_LOCAL_MACHINE\SOFTWARE\Microsoft\Windows\CurrentVersion\Explorer

Create a subkey named Shell Icons(if the key doesn't already exist)
In the right pane of the Shell Icons key, create a new String value (REG_SZ) named 179
Double-click 179 and set its data as C:\Windows\blank.ico

Exit the Registry Editor
Log off and log back in again. Or Restart the Explorer shell for the change to take effect.
That's it! The two blue arrows that showed up for some files and folders are now removed/hidden.


Downloads
w10-remove-compress-overlay.zip (to automate Steps 1-6)
If you don't want Windows to compress your files automatically in the future, increase the size of your system partition, or invest in a higher-capacity hard disk drive. And, you can free up large amounts of disk space using Disk Cleanup or Storage Sense.
Related articles
---
One small request: If you liked this post, please share this?
One "tiny" share from you would seriously help a lot with the growth of this blog. Some great suggestions:
Pin it!
Share it to your favorite blog + Facebook, Reddit
Tweet it!
So thank you so much for your support. It won't take more than 10 seconds of your time. The share buttons are right below. :)
---