When you open the Disk Cleanup tool, most if not all of the cleanup options are unchecked by default. Disk Cleanup doesn't remember the options you enabled the last time when you used it.
Here is a neat trick to start Disk Cleanup with checkboxes for all the cleanup options already enabled, without needing to alter the registry.
Start Disk Cleanup with the "LOWDISK" parameter
Using the "LOWDISK" argument with Cleanmgr.exe starts Disk Cleanup as usual, but with all checkboxes ticked so that you don't have to.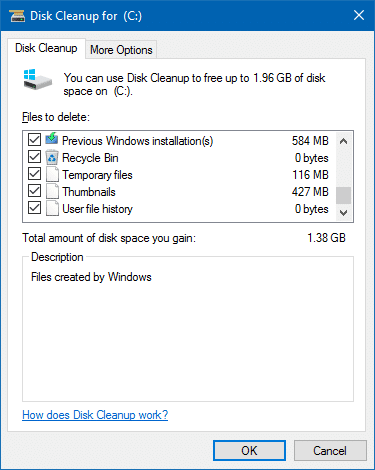 Create a desktop shortcut with the following command-line:
cleanmgr.exe /LOWDISK
You can also edit the target field of the Disk Cleanup shortcut located in the Administrative Tools folder, here:
C:\ProgramData\Microsoft\Windows\Start Menu\Programs\Administrative Tools

This shortcut is used when you search for and click "Disk Cleanup" from Start menu search results.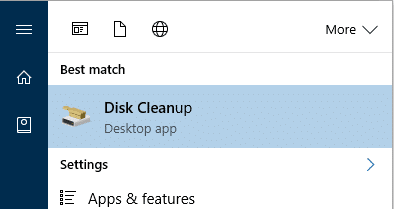 Note that you'll need to run Disk Cleanup as an administrator if you want to remove unneeded files in system-wide locations — which means files that are outside your user profile folder.
Cleanmgr.exe – Other switches
Typing cleanmgr.exe /? shows this:

cleanmgr [/SAGESET:n | /SAGERUN:n | TUNEUP:n | /LOWDISK | /VERYLOWDISK | /SETUP | /AUTOCLEAN]
But that's the maximum information it provides you. Microsoft has a Knowledge-base article that explains the two Cleanmgr.exe switches /sageset and /sagerun. Also, see article Automatically Clear Temp Files at Every Login Using Disk Cleanup. Official documentation for switches /TUNEUP, /LOWDISK, /VERYLOWDISK, /SETUP and /AUTOCLEAN is missing.
/VERYLOWDISK starts Disk Cleanup without showing any prompts and runs the cleanup immediately, in non-interactive mode. Presumably, this option cleans up all possible items to reclaim disk space. It's possible that the system executes Cleanmgr.exe with this switch when the free disk space becomes dangerously low — at a certain threshold. After cleanup, it shows a dialog mentioning the amount free space remaining in the system drive.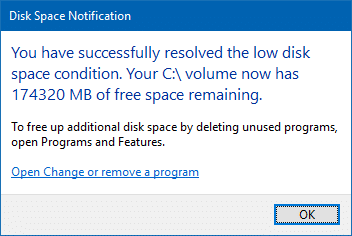 ---
One small request: If you liked this post, please share this?
One "tiny" share from you would seriously help a lot with the growth of this blog. Some great suggestions:
Pin it!
Share it to your favorite blog + Facebook, Reddit
Tweet it!
So thank you so much for your support. It won't take more than 10 seconds of your time. The share buttons are right below. :)
---
If you know what the other Disk Cleanup parameters do exactly, let's know that in the comments section below.