Earlier we learned how to exit and restart explorer shell safely in earlier versions of Windows. It's much simpler in Windows 8 and Windows 10, where the hidden "Exit Explorer" option is moved to the Taskbar context menu instead of the Start menu. Also, Task Manager has a new Restart Explorer in Windows 8 and Windows 10 that lets you gracefully restart the explorer shell easily.
When you restart the explorer.exe shell process, Taskbar and Start menu is completely refreshed, and pending registry modifications, if any, take effect after restarting the shell. The two methods to gracefully exit and restart explorer are covered in this article.
How to Restart Explorer.exe Cleanly in Windows 10
A graceful restart of the Explorer shell means that the settings such as desktop icons layout, Taskbar preferences, etc. will be saved when Explorer exits. Whereas forcibly terminating explorer.exe processes using Task Manager (End Process), Taskkill.exe or Tskill.exe abruptly kill the Explorer shell without letting it complete its work.
Follow one of these methods to restart the shell cleanly:
Method 1: Exit Explorer and Start a fresh instance of Explorer
This method involves exiting the Explorer shell using the hidden Exit Explorer command in the right-click menu. In Step 2, initiate a new explorer.exe process using Task Manager.
Step 1: Exit Explorer via Taskbar Right-click Menu
Press and hold the Ctrl and Shift keys, and right-click an empty area in the Taskbar.
Click the Exit Explorer extended menu option that appears.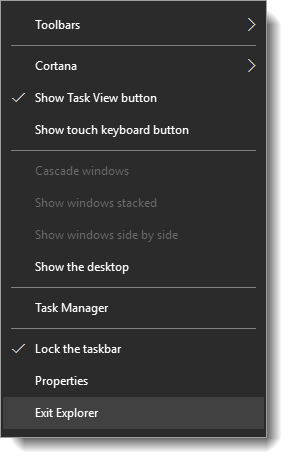 This closes the Explorer shell cleanly. At this stage, your Taskbar and Start menu will disappear. They reappear only after you start a new Explorer.exe (shell) process.
Step 2: Start a new Explorer.exe (Shell) process using Task Manager
To start the Explorer shell again:
Start Task Manager (Ctrl + Shift + Esc)
Click the File menu, click Run new task
Type explorer and press ENTER

Close Task Manager.
Method 2: Exit and Restart Explorer in a Single Click using Task Manager
Now here is an even better option. Task Manager can exit and restart the Explorer shell at once for you.
Open Task Manager and scroll down to Windows processes category.
Right-click Windows Explorer in the list, and click Restart


Close Task Manager
This closes the Windows Explorer shell safely and restarts it automatically!
RELATED: Restart Explorer Gracefully Using a Shortcut, Command-line or via Right-click menu
Editor's Note: The Task Manager option restarts the shell immediately. Whereas using the first method, you decide when to restart the shell after exiting it. Choose whichever option suits you.
---
One small request: If you liked this post, please share this?
One "tiny" share from you would seriously help a lot with the growth of this blog. Some great suggestions:
Pin it!
Share it to your favorite blog + Facebook, Reddit
Tweet it!
So thank you so much for your support, my reader. It won't take more than 10 seconds of your time. The share buttons are right below. :)
---