After installing Malwarebytes Premium 14-day trial or licensed product, your anti-virus software (e.g., Microsoft Defender Antivirus) may get disabled automatically. In this scenario, when you attempt to start the Microsoft Defender Antivirus Service (WinDefend) via the Services console, it shows the following error, and the service wouldn't start.
The Windows Defender Antivirus Service service on Local Computer started and then stopped. Some services stop automatically if they are not in use by other services or programs.

Or, the Microsoft Defender Antivirus Service service will start and immediately stop.
The result is exactly the same when you try to start these services:
Windows Defender Advanced Threat Protection Service (Sense)
Microsoft Defender Antivirus Network Inspection Service (WdNisSvc)
The Security and Maintenance applet in the classic Control Panel and Windows Security Center will report that Malwarebytes is currently your "anti-virus" program. It disables the Microsoft Defender Antivirus automatically.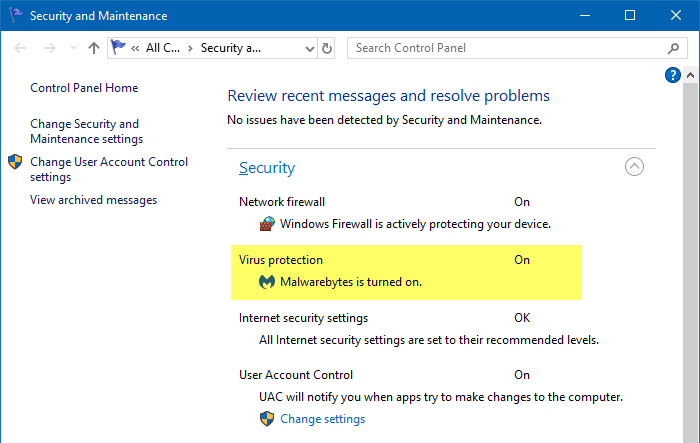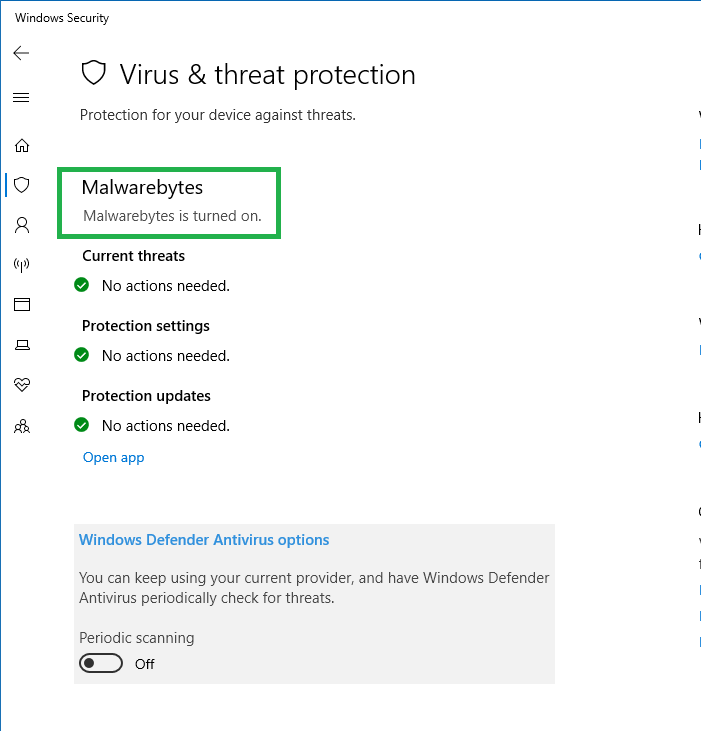 As you can see above, all of the Virus & threat protection options are missing, as a third-party anti-virus solution is installed. In that case, you're offered to use the Limited Periodic Scanning feature. If Microsoft Defender Antivirus is not running, its other features such as "block at first sight" (cloud protection) or controlled folder access will not work.
Although Malwarebytes company claims "Malwarebytes for Windows makes antivirus obsolete" in their advertisements, many experts disagree.
Quoting David H. Lipman, a Malware Researcher/Analyst.
MBAM is not an anti-virus application and does not replace an anti-virus application. MBAM is an adjunct, complimentary, anti-malware application.

In its role as an adjunct, complimentary, anti-malware application it has limitations in aspects that the anti-virus application performs in its role.

MBAM does not target script files. That means MBAM will not target; JS, JSE, PY, HTML, HTA, VBS, VBE, .CLASS, SWF, SQL, BAT, CMD, PDF, PHP, WSF, etc. It also does not target document files such as; PDF, DOC, DOCx, DOCm, XLS, XLSx, PPT, PPS, ODF, RTF, etc. It also does not target media files; MP3, WMV, JPG, GIF, etc.
So, Malwarebytes is not a replacement for an anti-virus product. That said, you'll need to enable/run an anti-virus product alongside Malwarebytes anti-malware for better security.
Stop Malwarebytes from Turning Off Defender
If installing Malwarebytes Premium disables Windows Defender or your 3rd party antivirus software, you'll need to change a setting in Malwarebytes. Follow these steps:
Open Malwarebytes, and click Settings.
In the Security tab, scroll down to the Windows Security Center section.
Disable the option Always register Malwarebytes in the Windows Security Center
If you have another anti-virus software installed, then it's suggested to have the "Always register Malwarebytes in the Windows Security Center" Malwarebytes setting disabled. Malwarebytes will then run alongside your third-party antivirus.
---
One small request: If you liked this post, please share this?
One "tiny" share from you would seriously help a lot with the growth of this blog. Some great suggestions:
Pin it!
Share it to your favorite blog + Facebook, Reddit
Tweet it!
So thank you so much for your support. It won't take more than 10 seconds of your time. The share buttons are right below. :)
---