Over time, many invalid or obsolete taskbar notification icons may appear on the "Customize notifications" or the "Select which icons appear on the Taskbar" page with invalid or missing icons.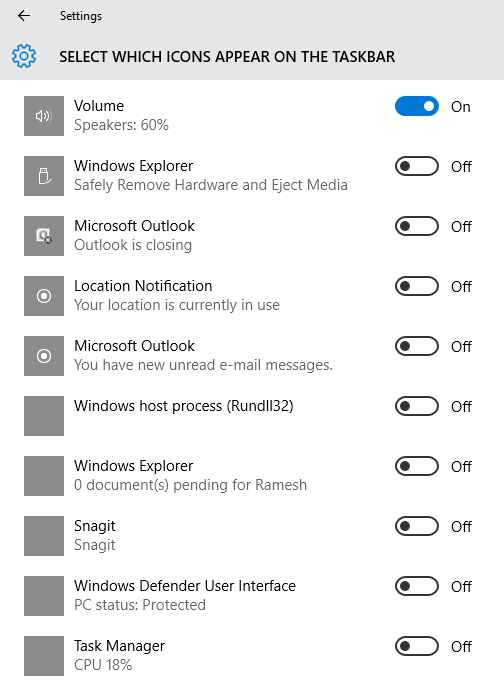 On Windows 11, the setting is called "Taskbar corner overflow." It's located under Personalization → Taskbar, in the Settings app.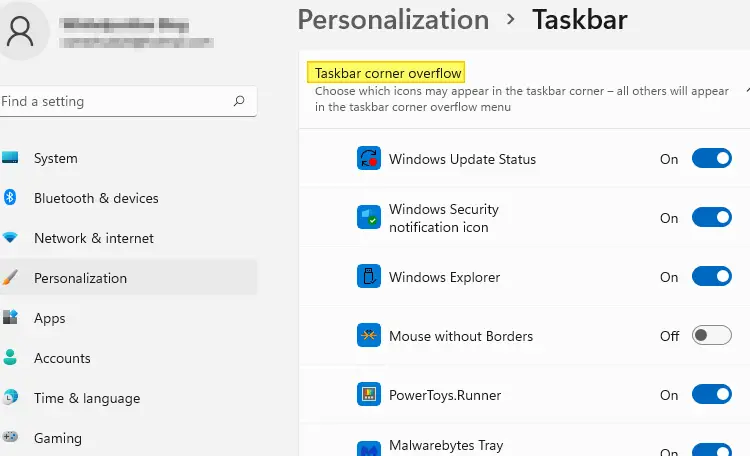 This article describes how to clear the past and current items list in the Customize Notifications dialog in Windows. Information and the script here apply to all versions of Windows, including Windows 10 and Windows 11.
How to Clear Customize Notifications Icons in Windows
Option 1: Clearing the Customize Notification icons Using Script
Here is a VBScript (for Windows Vista, 7, 8, 10, and 11) that clears the customize notification icons for you.
Close all your running programs.
Download clear-notification-items.zip
Unzip and run the clear-notification-items.vbs script file. It clears Customize Notifications items and restarts the Explorer shell automatically.

Here is what the customize notifications dialog ("Select which icons appear on the Taskbar") looks like after clearing the obsolete entries.

Customize Notifications Dialog after clearing. Programs will re-add their icons.

You can see that the blank icons on the left are also fixed. (Compare Snagit icons.)
Option 2: Clearing the Customize Notification icons manually
To clear the Customize Notifications items list manually using the Registry Editor, follow these steps:
Open Task Manager by pressing Ctrl + Shift + Esc
Exit (don't restart) the Explorer shell cleanly. See instructions for Windows Vista/7, Windows 8 & 10.

Exit Explorer in Windows 11?: Since Windows 11 doesn't have the "Exit Explorer" GUI menu option, Windows 11 users can use the script method ("Option 1") instead, or use Task Manager to end the Explorer.exe process. It won't be a graceful termination, though.

At this point, the Taskbar and your desktop icons wouldn't be visible. From the Task Manager's File menu, launch the Registry Editor (regedit.exe)
In the Registry Editor, navigate to the following branch:

HKEY_CURRENT_USER\Software\Classes\Local Settings\Software\Microsoft\Windows\CurrentVersion\TrayNotify

Delete the two values, namely IconStreams and PastIconsStream
Exit the Registry Editor.
From the Task Manager's File menu, launch Explorer.exe. This starts the Windows shell again.
The Windows shell is the graphical user interface for the Microsoft Windows operating system. Its primary elements consist of the desktop, the taskbar, and the Start menu.
This clears your customize notification tray icons in the Taskbar in all versions of Windows, including Windows 11.
---
One small request: If you liked this post, please share this?
One "tiny" share from you would seriously help a lot with the growth of this blog. Some great suggestions:
Pin it!
Share it to your favorite blog + Facebook, Reddit
Tweet it!
So thank you so much for your support, my reader. It won't take more than 10 seconds of your time. The share buttons are right below. :)
---