The Windows Security tray icon provides a convenient way to run a quick scan, check for definition updates, or launch the Windows Security app quickly. However, in some systems, the icon may be missing from the notification area.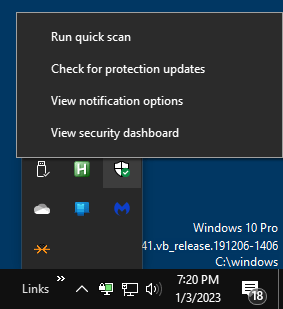 Let's see how to restore the missing icon.
Restore the Windows Security Tray Icon
SecurityHealthSystray.exe is the module responsible for displaying the Windows Security icon.
Right-click Start, click Run, type the following file name, and click OK.
C:\Windows\System32\SecurityHealthSystray.exe
The "Windows Security" icon should now appear in the notification area.
Auto-starting the program
Option 1: Using the Startup folder
To automatically launch the program SecurityHealthSystray.exe at every startup, create a shortcut to it and place the shortcut in your Startup folder. The Startup folder of your user account can be opened by typing shell:startup in the Run dialog.
(You'd like to see the other useful shell shortcut commands.)
Option 2: Using the Registry
Other than the "Startup" folder method, here's another option for you. The following method works for all user accounts.
You can auto-start the program via the registry run key.
Open an Admin Command Prompt window. Copy the following command and paste it into the Command Prompt
reg add "HKLM\SOFTWARE\Microsoft\Windows\CurrentVersion\Run" /v SecurityHealth /d "%windir%\system32\SecurityHealthSystray.exe" /t REG_SZ /f
That's it. The Windows Security tray icon should load automatically whenever you login to your account.
(The startup registry entry or the shortcut added to the Startup folder will appear in the Task Manager Startup tab.)
---
One small request: If you liked this post, please share this?
One "tiny" share from you would seriously help a lot with the growth of this blog. Some great suggestions:
Pin it!
Share it to your favorite blog + Facebook, Reddit
Tweet it!
So thank you so much for your support. It won't take more than 10 seconds of your time. The share buttons are right below. :)
---