If you're using Windows 10 or 11 Home Edition, you can upgrade to Pro Edition (the upgrade costs USD 99) by changing the product key and activating it. This article tells you how to upgrade Windows 10/11 Home to Pro. No reinstallation is required.
Upgrade Windows Home to Windows Pro
There are two ways to upgrade from Home to Pro. Before proceeding, if you're not activated, please activate Windows Home first. Once done, follow one of the methods below to upgrade to Pro. The following steps apply only to devices currently running an activated copy of Windows 10/11 Home.
If you have a Windows 10/11 Pro product key
Select Start → Settings → System → Activation.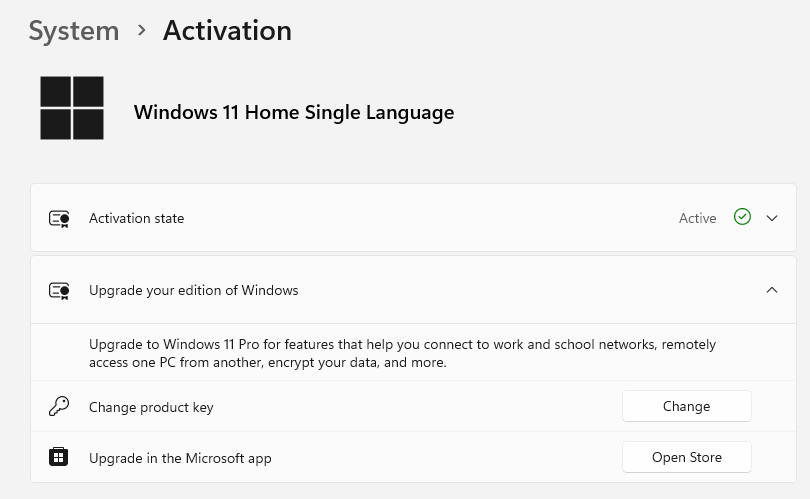 Select "Change product key," and then click "Start".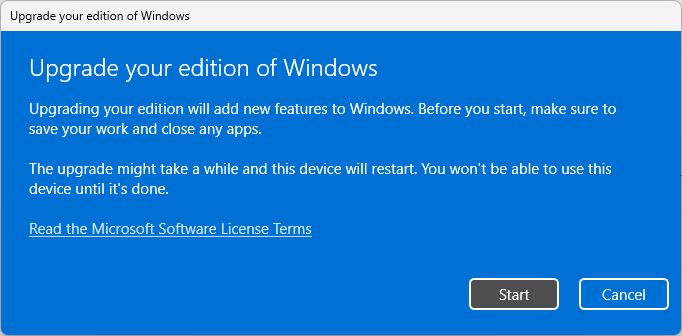 Enter the 25-character Windows 10/11 Pro product key.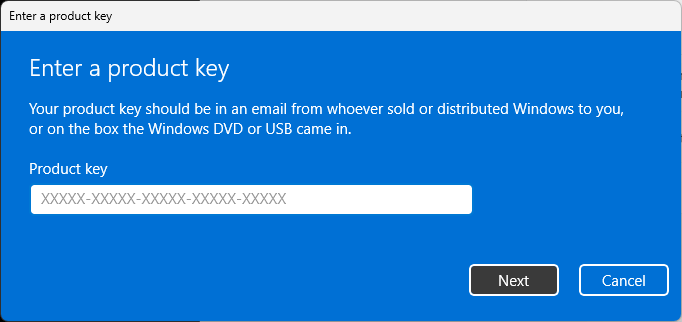 Select Next to start the upgrade to Windows 10/11 Pro.
Windows will restart now. After the restart, you'll then be running Windows 10/11 Pro.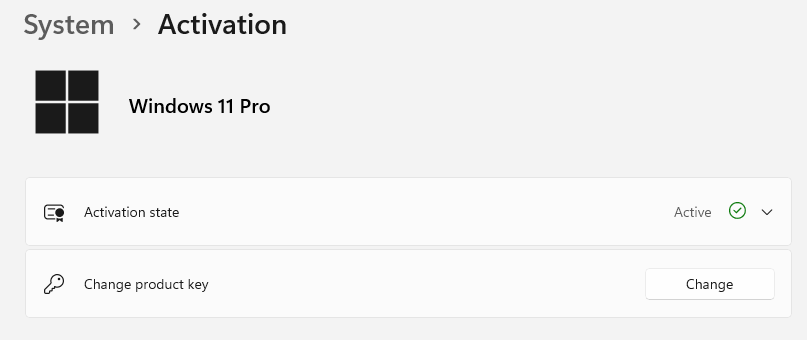 ---
If you don't have a Windows 11 Pro product key
Select Start → Settings → System → Activation.
Under "Upgrade your edition of Windows", select "Open Store."

Ensure you're signed in with your Microsoft account to purchase Windows 10/11 Pro.
After you confirm your purchase, you'll be prompted to install Windows Pro and restart your PC. You'll then be running Windows 10/11 Pro.
---
Additional Information
When you upgrade your Windows Edition via Settings, you may receive the error 8004230F on some systems:

Unable to upgrade your edition.
Windows can't activate Windows on this device right now. You can try activating again later or go to the Store to buy genuine Windows. (0x8004230f)
The error 8004230F "VSS_E_UNEXPECTED_PROVIDER_ERROR" is a VSS error (instead of an activation error code). The error occurs because the upgrade process cannot create a Restore Point. Here's the corresponding event log entry:
Log Name:      Application
Source:        System Restore
Date:          
Event ID:      8193
Task Category: None
Level:         Error
Keywords:      Classic
User:          N/A
Computer:      VOSTRO-3470
Description:
Failed to create restore point (Process = C:\WINDOWS\system32\SystemSettingsAdminFlows.exe EnterProductKey; Description = Upgrade your edition of Windows; Error = 0x8004230f).

To fix the issue, follow the steps in the "Resolution" section in the article Error 0x81000203 in System Restore and VSS. It should restore the System Restore functionality and thus fix the error 8004230F during activation/upgrade.
Note: As a workaround, you can disable System Restore to let the upgrade process complete successfully.
RELATED: How to Downgrade Windows 10 or 11 Pro to Home Edition
---
One small request: If you liked this post, please share this?
One "tiny" share from you would seriously help a lot with the growth of this blog. Some great suggestions:
Pin it!
Share it to your favorite blog + Facebook, Reddit
Tweet it!
So thank you so much for your support. It won't take more than 10 seconds of your time. The share buttons are right below. :)
---