Windows Update has a notorious habit of pushing driver updates silently into your system. Sometimes, the drivers offered by Microsoft for your devices may cause problems. It's always a best idea to only update the drivers directly from device manufacturer's site. In some cases, we may have to to rollback the drivers auto-installed by Windows Update. For example, Realtek drivers pushed out by Windows Update caused problems for some users. How to prevent Realtek driver update from automatically installing via Windows Update in future?
A Redditor explains this issue; After WU installed the Realtek HD audio driver, he uninstalled it and restarted the computer. Windows installed the standard version of the driver after the reboot. However, as Windows Update updated the drivers automatically, the Realtek device malfunctioned and this cycle repeated again and again. Here are a couple of ways to prevent Realtek High Definition audio drivers from being updated automatically.
Rollback the Device Driver via Device Manager
To rollback the device driver, you have two options. One is to open Device Manager and use the Rollback… option in the devices properties. Another option is to perform a System Restore rollback but it may be an overkill in such situation. If Windows doesn't boot after installing a device driver, see how to Perform System Restore Rollback Offline in Windows 10 via Recovery Options
To rollback a driver using Device Manager, use these steps:
Right-click Start, click Device Manager
Right-click on the device (Intel or Realtek network adapter), and choose Properties


Choose one of the reasons listed under "Why are you rolling back?" and choose Yes to continue.

If a driver that you were offered (and automatically installed) is causing system crashes or instability, and if Windows was operating correctly before that change, you can use the driver rollback method.
Prevent Windows Update from Installing a Device Driver Automatically
Should the Windows Update channel repeatedly offer you or install a problematic driver automatically, use the WUShowHide.diagcab tool from Microsoft. This tool blocks a particular driver update from being installed. For more information, check out Microsoft article How to temporarily prevent a driver update from reinstalling in Windows 10.
As a side note, the wushowhide.diagcab tool can even be used to defer/temporarily block Windows 10 Feature Updates, not just device drivers.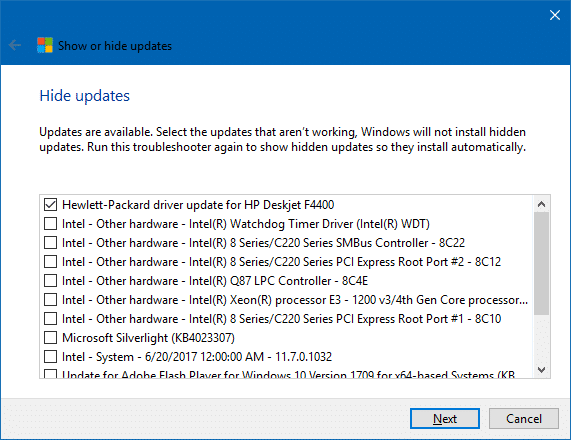 Using the SearchOrderConfig Registry setting
If you're comfortable with registry editing, you can prevent driver updates occurring via Windows Update, by setting the SearchOrderConfig Policy registry value. For more information, check out article "Windows Update Configured to never install drivers" Detected by Troubleshooter. Setting the SearchOrderConfig registry value to 0 means Windows will be instructed to "Never install driver software from Windows Update".
Deny Write Access to Realtek Folder by SYSTEM
Apart from using wushowhide.diagcab method, here is another permanent method to avoid Realtek drivers from being auto-updated. This, of course, applies only if you have a Realtek network adapter.
First, rollback the Realtek drivers via Device Managers as instructed earlier in the article.
After restarting Windows, open the folder C:\Program Files\Realtek
Right click the Realtek folder, and click Properties.
Go to the Security tab, and click Advanced
Change all permissions for SYSTEM to "Deny".
Click OK. Click OK once more.
Restart Windows.
You're set. And, note that you will be unable to manually install future Realtek drivers unless you revert the permissions back to the way they were.
---
One small request: If you liked this post, please share this?
One "tiny" share from you would seriously help a lot with the growth of this blog. Some great suggestions:
Pin it!
Share it to your favorite blog + Facebook, Reddit
Tweet it!
So thank you so much for your support, my reader. It won't take more than 10 seconds of your time. The share buttons are right below. :)
---