After updating Google Chrome to version 62, you'll see that by default Flash player is not allowed on websites. Instead, you'll see the Allow or Block (if "Ask first" setting is turned on) choice for each site you visit. If the Ask first setting is off, Flash support gets disabled and you'll see the message Adobe Flash Player is blocked on websites running Flash.
Since Adobe has announced to end-of-life for Flash by the year 2020, all web browsers will remove Flash completely by that time and they have a Flash road-map already prepared. Already websites are migrating to HTML5 but still a small percentage of sites use Flash.
In Chrome 62 and higher, you can either disable Flash completely or allow it on a per-website basis. There is no longer the setting which enables Flash for all sites by default. Use these steps to allow Flash per website:
Open Google Chrome and visit chrome://settings/content/flash
Enable "Ask first (recommended)".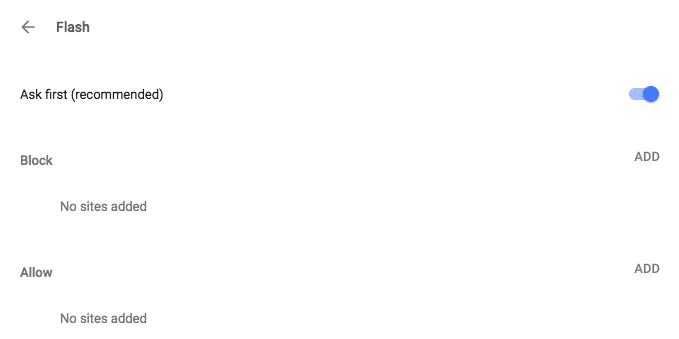 As you see in the above screenshot, you can add sites to the Allow or Block lists in Flash settings. In the later versions of Chrome, the ADD button is removed, too. Also, note that in Chrome 69 and higher, your Flash settings will be kept until you quit Chrome. You'll need to allow Flash on each session.
Go to the website that runs Flash.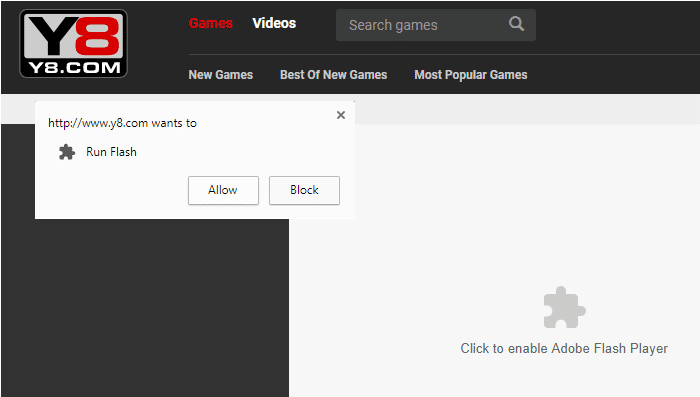 Click Allow to add the site to the Allow list or click Block if you want to block this site from playing Flash content.
As a side note, if the website contains Flash plugins with size less than 400px x 300px, they will always be blocked. You need to click "plugin blocked" icon in the top right corner and click "run all plugins this time" in every reload.
Quoting Anthony Laforge, Product Manager, Google Chrome:
Chrome will continue phasing out Flash over the next few years, first by asking for your permission to run Flash in more situations, and eventually disabling it by default. We will remove Flash completely from Chrome toward the end of 2020.
Check out the Google Chrome blog Saying goodbye to Flash in Chrome for more information.
---
One small request: If you liked this post, please share this?
One "tiny" share from you would seriously help a lot with the growth of this blog. Some great suggestions:
Pin it!
Share it to your favorite blog + Facebook, Reddit
Tweet it!
So thank you so much for your support. It won't take more than 10 seconds of your time. The share buttons are right below. :)
---