Many users are currently seeing the NSIS error on their systems, although they haven't installed any new program. The error may appear every hour. It's possible that a scheduled task triggers it.
Error launching installer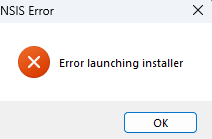 Windows cannot find 'DNS_Update.exe'. Make sure you typed the name correctly, and then try again.
(or)
Windows cannot find 'VPN_Update.exe'. Make sure you typed the name correctly, and then try again.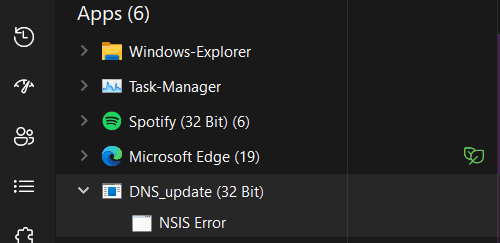 If you see the NSIS error message dialog on your computer, this article tells you how to resolve the issue.
Cause
One of the most likely causes of the NSIS error is RAV Endpoint Protection or RAV VPN. On an affected system, the root cause was found by running Process Explorer (How to Find Which Program Owns an Error Message Window.)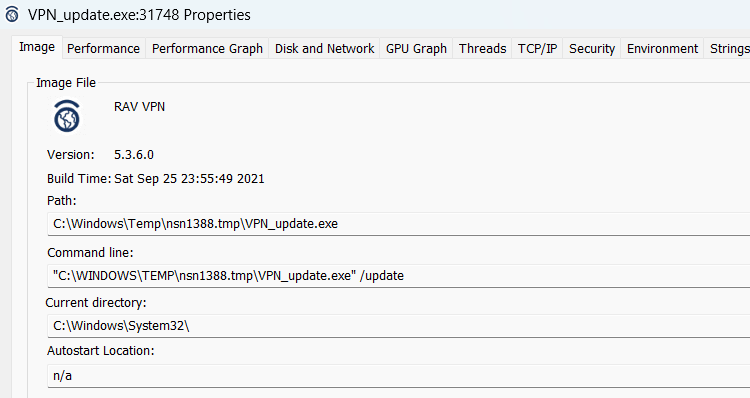 Resolution
The file names in the error message are related to RAV Endpoint or RAV VPN program. Uninstalling this program should help. It's possible that the RAV product may have been bundled with other programs. Most users don't remember installing them.
If you can't uninstall the product, download Autoruns from Microsoft and run it as administrator.
In Autoruns, find and delete the "Reason Cybersecurity" or "ReasonLabs" entries. There may be more than one service from that vendor. Here are some services that belong to Reason CyberSecurity.
rsDNSClientSvc
rsDNSResolver
rsDNSSvc
Also, check the "Scheduled Tasks" tab in Autoruns to see if there are any Reason CyberSecurity entries.
Delete all the Reason Cybersecurity-related entries using Autoruns. That should resolve the NSIS error.
---
One small request: If you liked this post, please share this?
One "tiny" share from you would seriously help a lot with the growth of this blog. Some great suggestions:
Pin it!
Share it to your favorite blog + Facebook, Reddit
Tweet it!
So thank you so much for your support. It won't take more than 10 seconds of your time. The share buttons are right below. :)
---