When you attempt to install updates via Windows Update, download apps or install app updates via the Microsoft Store app, or run a scan using Defender, error 0x80070015 may pop up. This post tells you how to fix the error 0x80070015.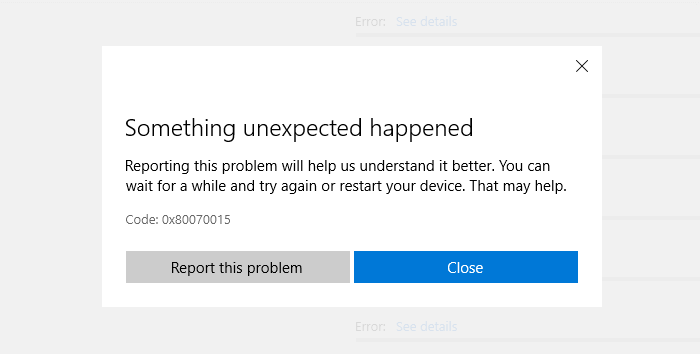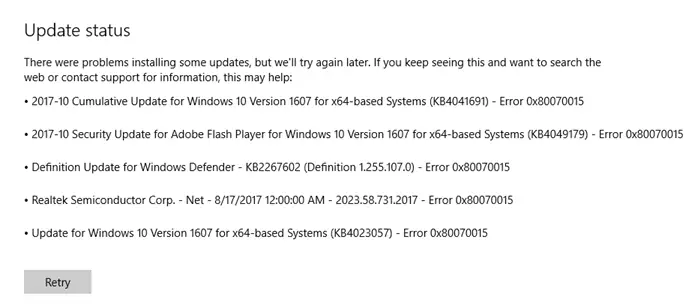 The error code 0x80070015 means The device is not ready. This implies that the Windows Update, Store or Defender were trying to access a drive which is not accessible. Running the Windows Update Troubleshooter and resetting or reinstalling the Microsoft Store, or running the Store apps troubleshooter may not help.
Fix: Error 0x80070015 in Windows Update, Microsoft Store
Third-party drive emulation tools like PowerISO can create a number of virtual drives. It's possible that the update process used by Windows Update or Microsoft Store attempts to access these drives and encounters the error 0x80070015. To prevent the problem, set the number of drives to 0 in PowerISO or similar application you use.
Run PowerISO, click the Mount button on the toolbar.
In the virtual drive menu that pops up, select Set number of drives
Select Disable. This disables all the virtual drives added by PowerISO.
See if you can use Windows Update or Microsoft Store now. If nothing helps, uninstall PowerISO and restart Windows to fix the problem.
Editor's note: In Windows v1903, Windows 10 uses a reserved drive for Windows Update that's exclusively used for storing temporary Windows Update data. As a result, I believe that the error 0x80070015 may not occur during Windows Update in Windows 10 v1903 and higher.
Start the Diagnostic Policy Service
If that doesn't help, make sure that the "Diagnostic Policy Service" (DPS) is started and running.
Start the Services MMC (services.msc)
Double-click Diagnostic Policy Service
Set its startup type to Automatic
Click Start to start the service manually.
Hope the above steps fix the error 80070015 in Windows Update and Microsoft Store.
Windows Defender error 0x80070015
To prevent the Windows Defender error 0x80070015, when you do a custom scan, make sure that you deselect the CD/DVD drive if there is no media in it. Also, the same for virtual drives added by third-party programs.
---
One small request: If you liked this post, please share this?
One "tiny" share from you would seriously help a lot with the growth of this blog. Some great suggestions:
Pin it!
Share it to your favorite blog + Facebook, Reddit
Tweet it!
So thank you so much for your support. It won't take more than 10 seconds of your time. The share buttons are right below. :)
---