After updating to Google Chrome version 73.0.3683.86, some users are seeing the message "Managed by your organization" when they click the "More" menu.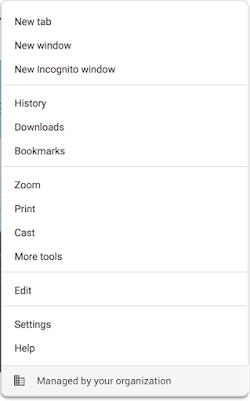 The message indicates that Chrome is being managed. If a user clicks on the "Managed by your organization" link, they are directed to details about Chrome Browser management.
This post tells you how to remove the Managed by your organization notice and also explains how to remove the Chrome policies that cause the notice to be shown.
Cause
Chrome Enterprise release notes says:
Starting in Chrome 73, when one or more policies are set in Chrome Browser, some users will see a new item on the More menu that indicates that Chrome is being managed.
To know the Chrome Policies applied to your system:
Browse to chrome://policy
This page shows the list of Chrome Policies applied and the "Source" for each policy. Policy "Source" can be one of the following:
Platform policies are pushed to users with Windows Group Policy, Managed Preferences on Mac, or another out-of-band management system for Windows, Mac, or Linux. Platform policies are listed even if the user isn't signed in to a managed account.
Cloud policies are set using the Admin console and apply to users who sign in to a managed Google Account.
Enterprise default policies are set by Chrome developers for enterprise customers and have a different default value than non-enterprise customers. Admins can override default values by setting the corresponding cloud policies in the Admin console.

LastPass and some other Chrome extensions may be taking advantage of the policy settings in Chrome to verify their update sources. Other users have reported that Webroot Chrome extension has set a Policy.
[Solution] Remove the "Managed by your administrator" message in Chrome
If you're convinced that Chrome Policy was set by your company, then you can simply hide the "Managed by your administrator" notice using the Chrome flags page.
Option 1: Hide the "Managed by your administrator" notification in Chrome
Open Google Chrome.
Browse the following page:

chrome://flags/#show-managed-ui

This flag lets you enable or disable showing enterprise users a 'Managed by your organization' message in the app menu and on some chrome:// pages.

Set it to Disabled
Option 2: Remove Chrome Policies (via the registry) on a Standalone Computer
If your system is not connected to a corporate network and is a standalone system, you may remove all those Chrome Policies using the registry.
Start the Registry Editor (regedit.exe)
Go to the following location:

HKEY_LOCAL_MACHINE\SOFTWARE\Policies\Google\Chrome

Export the branch by saving it to a REG file.
Right-click Chrome and choose Delete to delete the branch.
Repeat the same under the following branch:

HKEY_CURRENT_USER\SOFTWARE\Policies\Google\Chrome

Exit the Registry Editor.
Option 3: Remove Chrome Policies (via Chrome policy remover Batch file) on Windows Pro systems
The following solution was posted by a product expert at Chrome user forums.
Download the Chrome policy remover batch file. If you see a message saying that the type of file can harm your computer, click Keep.
Right-click it and select Run as administrator.
Click Yes at the confirmation prompt and allow the process to complete.
If you see a message saying that Windows protected your PC, click More info > Run anyway.
The Batch file removes the following folders:
%WINDIR%\System32\GroupPolicy
%WINDIR%\System32\GroupPolicyUsers
After running the batch file (or manually clearing those folders), carry out the following steps:
(Windows only) Install and run the Chrome Cleanup Tool.
Scan your computer for the unwanted software using recommended removal software:

Windows: Malwarebytes, AdwCleaner, HitmanPro.
Mac: Malwarebytes.

Uninstall unfamiliar or suspicious extensions.
Uninstall suspicious programs from your computer:
This removes Google Chrome policies and the message Managed by your organization on your device.
---
One small request: If you liked this post, please share this?
One "tiny" share from you would seriously help a lot with the growth of this blog. Some great suggestions:
Pin it!
Share it to your favorite blog + Facebook, Reddit
Tweet it!
So thank you so much for your support, my reader. It won't take more than 10 seconds of your time. The share buttons are right below. :)
---
About the author
Ramesh Srinivasan founded Winhelponline.com back in 2005. He is passionate about Microsoft technologies and he has been a Microsoft Most Valuable Professional (MVP) for 10 consecutive years from 2003 to 2012.