Summary: The "Rip Music" tab in Windows Media Player Options dialog shows up an empty location, and the Change button doesn't work. User is unable to change or set the default Rip folder location.
When the folder that was last set as the default Rip location is missing, Windows Media Player sets your Music folder (as fallback) for the Rip location. So, if the Music folder is inaccessible for some reasons, (say the user moved the Music folder to a removable drive, and the removable drive-letter has changed or the drive is disconnected or inaccessible), the Rip location would show up empty and the Change button remain stuck.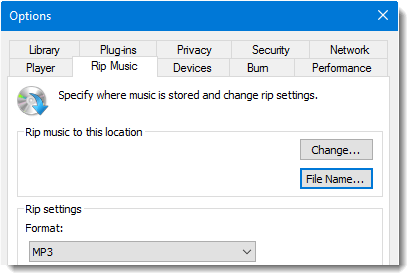 Quick Check: To quickly determine if the Music folder is pointing to a valid folder path, press WinKey + R to launch the Run dialog. Type the following command and press ENTER:
shell:my music
If you get an error similar to the one below, that explains the problem.
G:\Music is unavailable. If the location is on this PC, make sure the device or drive is connected or the disc is inserted, and then try again. If the location is on a network, make sure you're connected to the network or Internet, and then try again. If the location still can't be found, it might have been moved or deleted.
Fix the Music Folder Path
To fix the problem, check where the Music folder is pointing to, and change or restore the default location.
Open File Explorer, right-click Music folder, and click Properties.
In the Location tab, click Restore Default and click OK.
Windows 10 may require an additional/different approach to reset the Music folder path (via the registry). See article Windows 10 User Shell Folders Restore Default Paths especially table #2 in that article and the corresponding registry fix to clear the overriding entries.
Open Windows Media Player and you should see the "Rip music to this location" functionality is restored!
---
One small request: If you liked this post, please share this?
One "tiny" share from you would seriously help a lot with the growth of this blog. Some great suggestions:
Pin it!
Share it to your favorite blog + Facebook, Reddit
Tweet it!
So thank you so much for your support. It won't take more than 10 seconds of your time. The share buttons are right below. :)
---