If you have accidentally deleted the Windows 10 apps folders such as SystemApps, WindowsApps, or the Packages folder (in Local Application Data), here is how to restore them back.
Each sub-folder in the above locations stores your program files and settings for the modern Apps, and deleting those folders would prevent those apps from correctly. If the folder you deleted is for a third-party app, you can download a fresh copy via Microsoft Store.
What if you delete a folder containing a built-in Windows app? The best way to restore it would be to recover the folder from a recent volume shadow copy.
Download one of these shadow copy recovery tools:
Let's use Shadowcopyview. Launch the utility, and select the Snapshot in the top pane. Make sure you select the most recent one so that you have almost the same version of the app package and settings as before.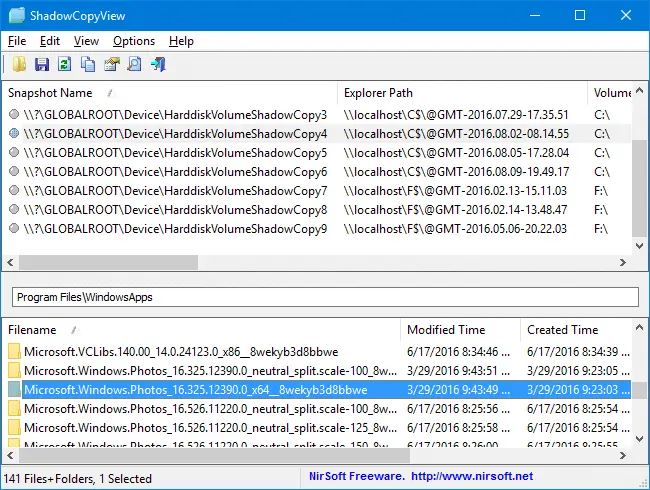 Type the folder path in the bottom pane. Select the folder, press F8, and select the destination path where you want to copy it to.
If no shadow copy exists, then you have the following options:
Use a file recovery tool such as Recuva.
Get the ISO image of the version of Windows you're using, mount the ISO, and copy the folder from there.
If you have another Windows 10 system running the same configuration, copy the apps folder from there.
RELATED: How to Restore the Default Permissions for WindowsApps folder
Note: Copying the folder from another computer is not a recommended way because the App's data files may reference a Microsoft user account ID of the source computer (if one is set). In that case, the app may not work correctly when copied to another system unless you also clear those user-specific settings in the LocalAppData\Packages folder for that particular app on the target computer.
---
One small request: If you liked this post, please share this?
One "tiny" share from you would seriously help a lot with the growth of this blog. Some great suggestions:
Pin it!
Share it to your favorite blog + Facebook, Reddit
Tweet it!
So thank you so much for your support. It won't take more than 10 seconds of your time. The share buttons are right below. :)
---