Folder view settings include column preferences, view mode (icon or thumbnail), grouping, sorting order, window size, etc. Sometimes Windows may forget your folder view settings due to corruption or if the 5000 folders limit has been reached.
For instance, Windows may keep resetting the view back to "List" even though you repeatedly choose the thumbnail view. Another example would be that the system keeps enabling the auto-align setting for your desktop icons into a grid (even when the Align icons to grid is not ticked.
Or, let's say you had added additional columns in a folder and closed the folder. When you reopen the folder, the changes may not be retained, and it goes back to the default view and sort order settings.
In those situations, you may want to reset the views to clear out corrupt settings and start afresh. This article explains how to completely clear the saved folder views in Windows Vista, 7, 8, 10, and Windows 11.
Reset folder view settings in Windows
Option 1: Reset Folder Views Using a Script
Here is a VBScript that will reset the folder view settings in the Windows registry.
Note that the script will backup the folder view registry settings (to two .reg files on your desktop) before resetting.
Download reset_folder_views.zip
Unzip the enclosed script file reset_folder_views.vbs to desktop.
Close all folder windows.
Double-click to run the reset_folder_views.vbs file.
Click Yes to continue when you see this message:

You'll see Command Prompt windows opening and closing, and then the Explorer shell restarts. This clears your folder view settings. The registry settings are backed up to two REG files on your desktop.
---
Option 2: Reset Folder Views Manually via the Registry Editor
Click Start, type regedit.exe and press ENTER
Navigate to the following keys one by one:

HKEY_CURRENT_USER\Software\Classes\Local Settings\Software\Microsoft\Windows\Shell\Bags

HKEY_CURRENT_USER\Software\Classes\Local Settings\Software\Microsoft\Windows\Shell\BagMRU

Right-click each key and click Export. Save each branch to separate .reg files.
Right-click on the Bags key and choose Delete
Right-click on the BagMRU key and choose Delete
Exit the Registry Editor.
It's important that you restart Explorer (shell) after clearing out the above key. See Restart Explorer.exe in Windows 7 or Restart Explorer in Windows 10
This clears the individual folder views, window size, and related settings.
Resetting folder settings for a particular folder type
Windows has these 5 templates for customizing folders: General Items, Documents, Pictures, Music, Videos.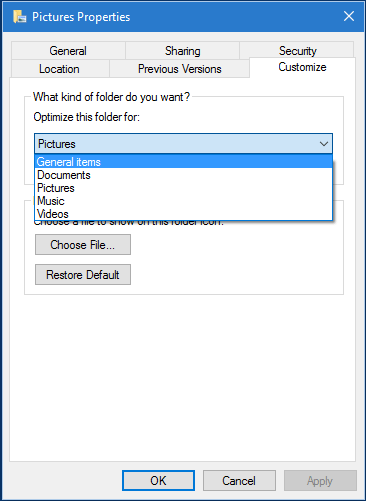 To reset the folder views for all folders of a particular type (template), use these steps:
Open the particular folder, say Pictures.
Access the "Folder Options" dialog, via:
For Windows Vista & 7: On the toolbar, click Organize, and then click Folder and search options.
For Windows 8 & 10: Click View in the ribbon, click the Options button, and click Change folder and search options.
Click the View tab, and click the Reset Folders button. Click Yes.

This resets the folder view settings for all folders of type Pictures.
---
One small request: If you liked this post, please share this?
One "tiny" share from you would seriously help a lot with the growth of this blog. Some great suggestions:
Pin it!
Share it to your favorite blog + Facebook, Reddit
Tweet it!
So thank you so much for your support. It won't take more than 10 seconds of your time. The share buttons are right below. :)
---