Summary: Double-clicking .exe or .lnk (shortcut) files may open Notepad or any other application, displaying junk characters.
Did you accidentally use the Default Programs or Open With dialog to associate .exe file types with an application like Notepad? This causes every program to open in that chosen application. Unfortunately, Windows provides no option to reset the .exe file associations. You need to fix the association settings using a .reg file or script.
After incorrectly associating .exe files using Notepad, Notepad opens every time when a .exe file is double-clicked. Here is an example: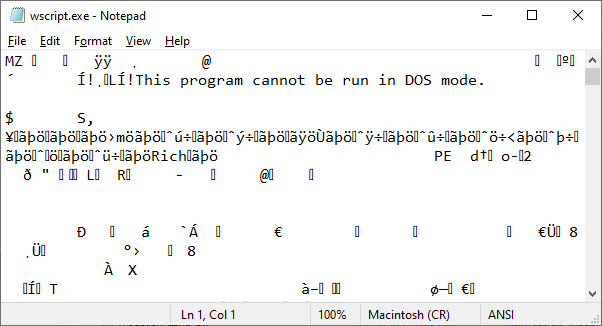 Or you may see the "Open with" dialog when you run a program (.exe file).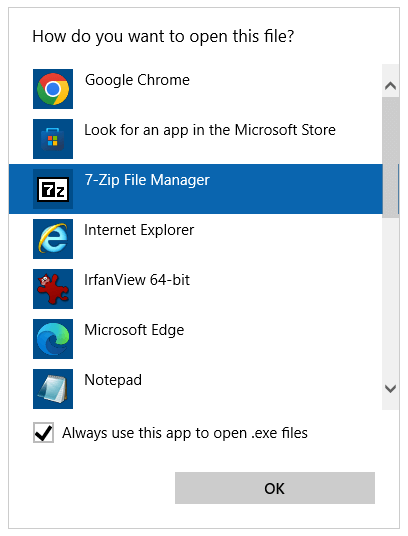 By default, the Open with option won't appear in the context menu for executable files. The problem may have happened after the user employed a registry tweak that adds "Open with…" to the context menu for all file types. Despite this problem, you should be able to launch applications by double-clicking on the data files. For example, you should still be able to launch the Microsoft Word application by double-clicking on a .doc or .docx file, but not by running winword.exe directly or clicking the Word program shortcut.
Resolution
To fix the .exe file association issue, delete the UserChoice registry key. This has to be done using a REG file or a script, as trying to launch regedit.exe directly would cause the same problem. Follow these steps:
1) Run exefix_cu.reg
Right-click exefix_cu.reg and choose "Save Link as" in your browser, and download the file to Desktop.
Right-click on the REG file and choose Merge. The .REG file clears the following key, which shouldn't exist for .exe files.

HKEY_CURRENT_USER\Software\Microsoft\Windows\CurrentVersion\Explorer\FileExts\.exe\UserChoice
When you use the Open With dialog to associate .exe files with another application, it stores the settings in the above registry key under a value named Progid. The Progid data will contain the application's exe file name (Applications\Notepad.exe, Applications\iexplore.exe, or a Programmatic Identifier such as txtfile, jpegfile, etc).
2) Run exefix.reg
If the above fix doesn't help, download exefix.reg and run it. Note that this fix requires admin privileges to work, as it rectifies the .exe file association settings globally.
I hope the information helped you fix .exe file association problem in Windows.
Related article: How to Remove a File Association Using the Registry Editor?
---
One small request: If you liked this post, please share this?
One "tiny" share from you would seriously help a lot with the growth of this blog. Some great suggestions:
Pin it!
Share it to your favorite blog + Facebook, Reddit
Tweet it!
So thank you so much for your support. It won't take more than 10 seconds of your time. The share buttons are right below. :)
---