If you've OneDrive options set to save documents and pictures in OneDrive, instead of This PC, the shell folders Documents, Pictures, and its three sub-folders Saved Pictures, Camera Roll, and Screenshots, are redirected to the OneDrive folder.
With this setting on, the user can't use the Location tab in the special folder properties to move them or restore the default location. In doing so, Access is denied — The folder can't be moved here error would appear.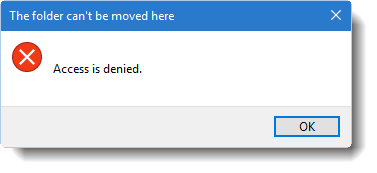 Also, any file save operations for documents and pictures are redirected to OneDrive's Documents and Pictures folders respectively. And, the screenshots taken using WinKey + PrintScr are now saved to the OneDrive\Pictures\Screenshots folder.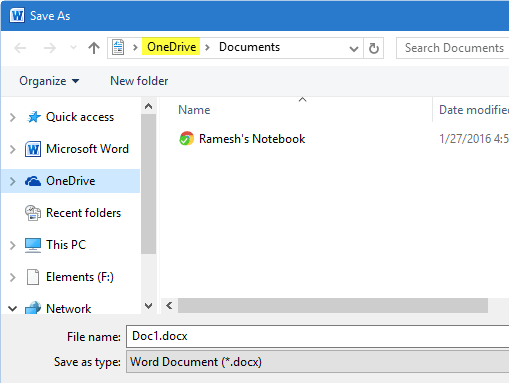 The Quick access links for Documents and Pictures now point to OneDrive's Documents and Pictures. To revert to the default location, change your settings in OneDrive.
Stop OneDrive Backup and Restore Default Paths for Special Folders
To restore the default paths for special folders, you must stop OneDrive synchronization for those folders.
Important: Before proceeding, copy the files in that special folder(s) to another folder (please don't copy them anywhere under Desktop/Documents/Pictures) or an external drive. This is because disabling OneDrive backup for a folder might erase the local copies of the files. Copying them to a different location beforehand will ensure you don't need to download them again from the OneDrive cloud.
Right-click the OneDrive icon in the Notification area and click Settings.
Under Sync and Backup, click Manage Backup.

In the Manage folder backup dialog, switch off the toggle button for the special folder (Desktop, Documents, or Pictures)

Click Stop backup in the confirmation dialog.


Important: Now that you've stopped folder backup, the files you were backing up remain in OneDrive and no longer appear in your Documents folder on this PC. You can always back up this folder with OneDrive later.

When you stop backing up a folder, the files that were already backed up by OneDrive stay in OneDrive. If you no longer want those files in OneDrive, you must move them manually to a local folder on your computer. Any new files you add to that folder on your PC won't be backed up by OneDrive.

Copy the items manually from the external drive (or other location) where you backed up the files before beginning the procedure.
This resets the default shell folder paths for Documents, Desktop, and Pictures.
Still Doesn't work?
If the above method doesn't help, you may need to edit the registry to reset the folder paths. Visit the page default special folder paths, download the registry fix #3 and run it, or to fix it manually, refer to table #3 in the same article.
---
One small request: If you liked this post, please share this?
One "tiny" share from you would seriously help a lot with the growth of this blog. Some great suggestions:
Pin it!
Share it to your favorite blog + Facebook, Reddit
Tweet it!
So thank you so much for your support. It won't take more than 10 seconds of your time. The share buttons are right below. :)
---