Sticky Notes is nice tool that makes it super easy to take quick notes. When you close or delete a Sticky note, you'll be shown a confirmation dialog as below: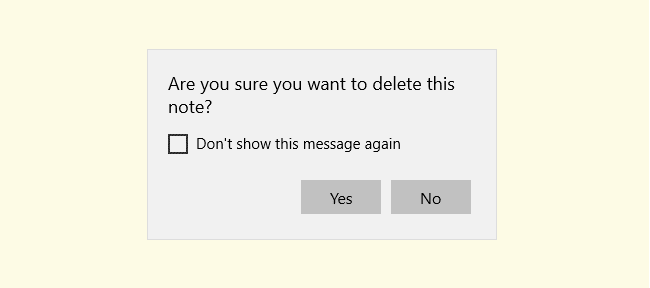 If you had accidentally enabled Don't show this message again and clicked No, the user interface doesn't provide an option to enable the prompt back.
However you should be able to re-enable the Sticky Notes' Delete Note confirmation dialog using the steps below. Choose the one that's applicable for your build and version of Windows you use.
Windows 10 Anniversary Update Builds
Resetting the App
If you're running Windows 10 Redstone build (Anniversary Update), Sticky Notes is now a modern or universal app with the "Insights" feature added. To get back the delete confirmation prompt, you need to reset Sticky Notes.
Open Settings (WinKey + i), and go to Apps & Features. Select Sticky Notes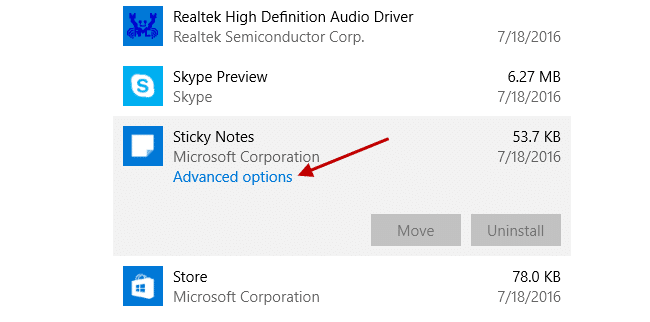 Click Advanced options. And in the next screen, click Reset
When you see the following prompt, click Reset in the resulting dialog:
This will permanently delete the app's data on this device, including your preferences and sign-in details
That's it! This gets back the Delete Notes confirmation dialog for Sticky Notes.
Windows 10 Earlier Builds and Previous Versions of Windows
In builds earlier than Redstone 1, and in earlier versions of Windows Sticky Notes is a classic desktop program and it's delete note confirmation dialog appears as follows.
So, to get back the above prompt, use the Registry Editor.
Start Regedit.exe and go to:
HKEY_CURRENT_USER\Software\Microsoft\Windows\CurrentVersion\Applets\StickyNotes
Double-click the PROMPT_ON_DELETE registry entry.
In the Value data box, type 1, and click OK.
Exit the Registry Editor.
This brings back the Sticky Notes delete confirmation dialog.
---
One small request: If you liked this post, please share this?
One "tiny" share from you would seriously help a lot with the growth of this blog. Some great suggestions:
Pin it!
Share it to your favorite blog + Facebook, Reddit
Tweet it!
So thank you so much for your support. It won't take more than 10 seconds of your time. The share buttons are right below. :)
---