The Bing wallpaper gallery houses some gorgeous wallpapers of landscapes, nature, animals, cities, space, flowers, people, insects, underwater, etc. that can spice up your desktop and elevate your mood. The wallpapers from Bing gallery, however, come with a "Bing" watermark image which may reduce the aesthetics.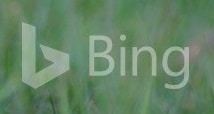 This post tells you how to download HD 1080p Bing wallpapers without the "Bing" watermark.
Visit the Bing Gallery at http://www.bing.com/gallery/
Click on a wallpaper thumbnail to open it.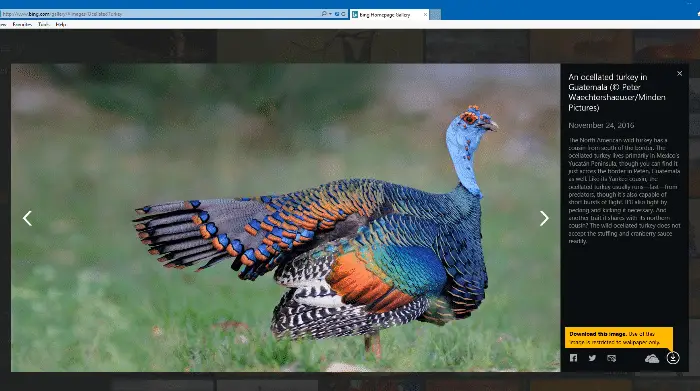 Click on the previewed image and drag it over to the address bar or title bar area.

That shows the image file name (and URL) in the address bar, but for the 1366×768 version. For instance, the URL appears as below:

http://az619822.vo.msecnd.net/files/OcellatedTurkey_EN-US10131789861_1366x768.jpg
Change the dimensions in the URL to get the HD version of the same image, like this:
http://az619822.vo.msecnd.net/files/OcellatedTurkey_EN-US10131789861_1920x1080.jpg
(16:9 aspect ratio)
or
http://az619822.vo.msecnd.net/files/OcellatedTurkey_EN-US10131789861_1920x1200.jpg
(16:10 aspect ratio)
Press ENTER. You'll now see the 1080p HD resolution version of the same image, without the Bing watermark. Right-click on it and save it to your computer.
Bing Gallery may have different resolution copies of the same image, but this is not necessarily true for every image hosted there. There are plenty of sites that host the Bing wallpaper archives. Check out iwallpaperaccess.com (1920×1080) and istartedsomething.com (1366×768). There may be many other such sites on the web, but exercise caution when visiting and downloading from unknown sites. See also: Reddit thread Best way to download entire Bing wallpaper archive?
And then there is Spotbright that can download wallpapers from Microsoft Windows 10 Spotlight server.
---
One small request: If you liked this post, please share this?
One "tiny" share from you would seriously help a lot with the growth of this blog. Some great suggestions:
Pin it!
Share it to your favorite blog + Facebook, Reddit
Tweet it!
So thank you so much for your support. It won't take more than 10 seconds of your time. The share buttons are right below. :)
---