"Web Document" tab is missing when you check the properties of a URL file
Published: May 07, 2004
Updated : Oct 13, 2016
Symptom
When you right-click an internet shortcut (.URL file) and choose Properties, the Web document tab may be missing in the property sheet.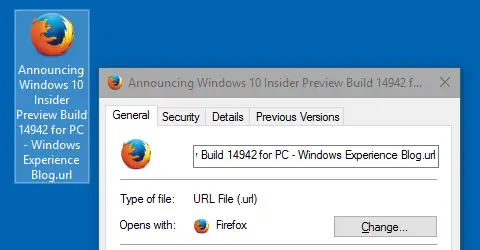 Also, the shortcut icon overlay for .url files may be missing. That's another indication that file association settings for .URL are incorrect.
Resolution
This issue can occur if .URL files are associated incorrectly using the Open with dialog. Use the registry fix below to resolve the problem in any version of Windows, including Windows 10.
Right-click webdoctab.reg, click "Save Target as" or similar option in your browser, and save to Desktop. Right-click the file and choose Merge.
Logoff and login back for the change to take effect. That should fix the problem.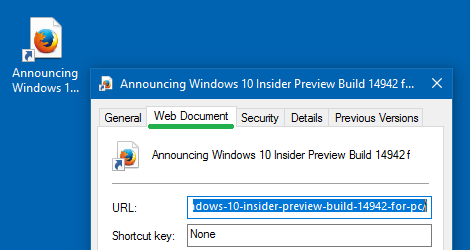 Contents of the REG file
Windows Registry Editor Version 5.00

;Restores missing "Web document" tab for .URL shortcuts
;Created by Ramesh Srinivasan
;Created on December 31, 2006
;Updated on October  12, 2016
;For Windows Vista, 7, 8 and Windows 10.

[HKEY_CLASSES_ROOT\.url]
@="InternetShortcut"

[-HKEY_CURRENT_USER\SOFTWARE\Microsoft\Windows\CurrentVersion\Explorer\FileExts\.url]

[-HKEY_CURRENT_USER\SOFTWARE\Microsoft\Windows\Roaming\OpenWith\FileExts\.url]