Cumulative Update KB3194798 includes quality improvements. No new operating system features are being introduced in this update. Key changes include:
Improved reliability of Bluetooth and storage file system.
Addressed issue causing printer drivers to not install correctly after installing security update KB317005.
Addressed issue causing sign-in errors if a password is entered incorrectly or a new password doesn't meet password complexity requirements after installing security update KB3167679.
Addressed issue that required users to log out and log back in before using the application they installed using the Windows installer (MSI).
Improved support for networks by adding new entries to the Access Point Name (APN) database.
Addressed issue that was causing excessive battery drain on Windows 10 Mobile when connected to Wi-Fi.
Addressed issue in which setting up both fingerprint and iris recognition sometimes causes the sign-in to fail on Windows 10 Mobile.
Addressed issue that was causing high CPU usage on Windows 10 Mobile.
Addressed additional issues with multimedia playback, revised daylight saving time, authentication, Internet Explorer 11, and Windows Shell.
Security updates to Microsoft Edge, Internet Explorer 11, Windows registry, and diagnostics hub.
For more information about the complete list of affected files, see KB3194798.
(via WU History)
If you can't update it via WU for some reason (it may get stuck at 95% in some systems), you can directly download it from the WU catalog.
Direct Download Links
Update: Some users reported that they could not install the .msu file directly downloaded from the Windows Update catalog. Until MS fixes the issue, you may have to rely on the regular Windows Update to install the CU.
Windows 10 v1607 x86: windows10.0-kb3194798-x86_30ca81056fa468110773767f5b3de65711809c90.msu [421.4 MB]
Windows 10 v1607 x64: windows10.0-kb3194798-x64_8bc6befc7b3c51f94ae70b8d1d9a249bb4b5e108.msu [779.7 MB]
KB3194798 issues reported by users
1. Can't install KB3194798 update
Some users couldn't install the update via Windows Update or by running the .msu package directly downloaded from the Windows Update catalog. The download from WU got stuck at 95% or in the early stage. And reportedly, the .msu download didn't install for some users due to certificate issues.
Microsoft's KB3194496 PowerShell Script fixes KB3194798 issues?
Running the PowerShell script fix Microsoft created for KB3194496 (14393.222) seems to work for KB3194798 installation problems. Check this post and this at Microsoft Answers.
2. Disk Cleanup says Windows Update Cleanup occupies 3.99 TB
Disk Cleanup showed 3.99 TB (Terabytes) as being occupied by Windows Update Cleanup files for those who could install the update successfully.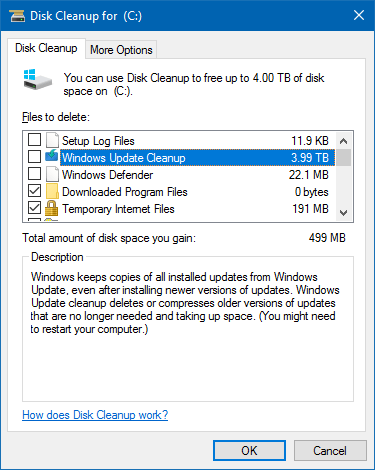 Update: The same thing happened after installing the November Cumulative Update for Windows 10 v1607 KB3200970 (14393.447).
There seems to be a bug somewhere — *perhaps* Disk Cleanup is miscalculating the size of the WinSxS folder by not considering hard links into account. What so ever, 3.99 TB still sounds enormous. The same issue has happened before when using Disk Cleanup. We're yet to hear what Microsoft has to say about this.
Selecting the item in Disk Cleanup and clicking OK might clean up the entry, but I chose to use DISM instead. I did a component cleanup using DISM, which cleaned up some space and removed Windows Update Cleanup from the list of items to clean up in Disk Cleanup options. That's because DISM has done the cleanup task.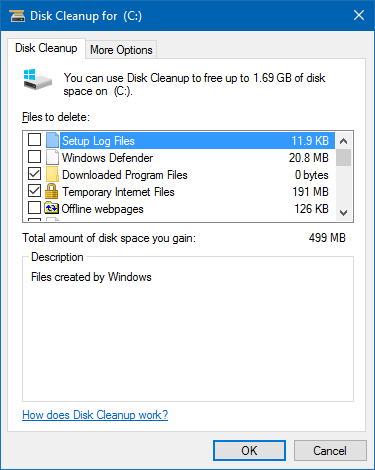 Analyze and Cleanup the Component Store using DISM
Command to analyze and report if a component cleanup is required or not – to be run from elevated Command Prompt.
dism /online /Cleanup-Image /AnalyzeComponentStore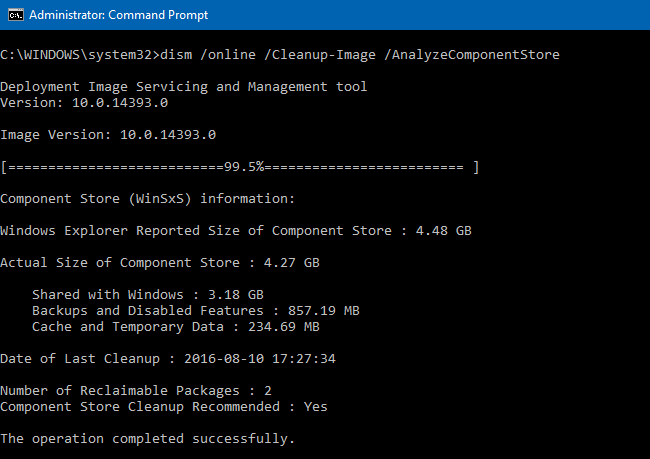 And, here is the command to do a component store cleanup.
dism /online /Cleanup-Image /StartComponentCleanup

/StartComponentCleanup cleans up the superseded components and reduces the size of the component store. Note that you can't uninstall updates after using DISM with this command-line parameter.
---
One small request: If you liked this post, please share this?
One "tiny" share from you would seriously help a lot with the growth of this blog. Some great suggestions:
Pin it!
Share it to your favorite blog + Facebook, Reddit
Tweet it!
So thank you so much for your support. It won't take more than 10 seconds of your time. The share buttons are right below. :)
---