A long time back, most of the software used to ship with .hlp (WinHelp help format) help files. Since Windows Vista, the legacy .hlp format has been deprecated. To view 32-bit Help files with the .hlp file extension in Windows Vista (and higher — through Windows 8.1), you will need to download and install WinHlp32.exe (KB917607 package) from the Microsoft Download Center.
However, this update isn't available for Windows 10. Installing one of the KB917607 installers on Windows 10 would cause the following error:
Windows Update Standalone Installer
The update is not applicable to your computer.
This article tells you how to restore missing WinHelp (.hlp) viewer in Windows 10.
How to get Winhlp32.exe (.hlp) functionality in Windows 10?
There are situations where you need the .hlp functionality even today. For example, I needed to refer to WinDiff.hlp manual to know the command-line switches supported. Note that WinDiff is still being used today by many users. By default, Windows 10 has the file Winhlp32.exe in the Windows directory, but it's only a 12 KB dummy or placeholder file that doesn't do anything when run.
Here's how to restore the .hlp file viewing capability in Windows 10.
Step 1: Download KB917607 and extract the files manually
To get the .hlp viewing functionality in Windows 10, you need to extract the required files from the KB917607 package.
Download the KB917607 update (meant for Windows 8 or 8.1) from the Microsoft Download Center to your Windows 10 computer.

(In this illustration, I have used the Windows 8 x64 version. Since I'm using Windows 10 x64 version, I downloaded the x64 installer file Windows8-RT-KB917607-x64.msu)

Use 7-Zip or any other archiver to open Windows8-RT-KB917607-x64.msu.
Extract the file Windows8-RT-KB917607-x64.cab to your desktop.

Open a Command Prompt window, and type these two commands one by one and press Enter after each command:

md d:\test

expand "%USERPROFILE%\Desktop\Windows8-RT-KB917607-x64.cab" -F:* d:\test

(In the above example, I'm creating a temporary folder on the D:\ drive, and then I'm extracting the contents of the .cab file. If the drive-letter is different in your system, change it accordingly.)

Now, copy these two files to your desktop:

D:\test\amd64_microsoft-windows-winhstb_31bf3856ad364e35_6.2.9200.16420_none_820c960392fdf7ed\winhlp32.exe

D:\test\amd64_microsoft-windows-winhstb.resources_31bf3856ad364e35_6.2.9200.16420_en-us_2b615f4ab77535c0\winhlp32.exe.mui

(As I'm using Windows 10 x64 version, I've copied the x64 version of Winhlp32.exe denoted by the letters "amd64" in the folder name. The .mui file (Multilingual User Interface) are resource files that allow you to change your Windows interface to display different languages.

Because I'm using the English version of Windows, I picked up the "en-US" version of the .mui file from the D:\Test folder. In case you have an Italian language version of Windows, you'd need the en-IT version of winhlp32.exe.mui.)

Tip: Alternatively, you can search for Winhlp32.exe in the D:\Test folder and easily pick the two files from search results.

Now, you have the two files Winhlp32.exe & Winhlp32.exe.mui on your desktop. Rename them to Winhlp32_legacy.exe & Winhlp32_legacy.exe.mui respectively.
Move the file Winhlp32_legacy.exe to C:\Windows

Move Winhlp32_legacy.exe.mui to C:\windows\en-US

(

en-US

is for English language OS. Likewise, for Italian language OS, you'd copy the .mui file to

C:\windows\en-IT

, and so forth. To view the complete list of Locale IDs or LCIDs, visit the

LCID (Locale ID) | Microsoft Docs

webpage)

Note:  As Windows 10 already contains the Winhlp32.exe and Winhlp32.exe.mui placeholder files, we don't want to delete or rename the factory default versions to replace them with the legacy copies.

Some users tend to take ownership of the original Winhlp32.exe file and delete it before replacing it with the legacy copy. Doing so might cause the Windows File Protection to restore the originals at a later stage automatically.

Here is a sample System File Checker (Sfc.exe) CBS log showing that the Windows File Protection has restored the factory-default versions of the files from the component store (WinSxS)

Info CSI 00005d95 [SR] Repairing corrupted file [l:20 ml:21]"\??\C:\WINDOWS\en-US"\[l:16]"winhlp32.exe.mui" from store
Info CSI 00005dd4 [SR] Repairing corrupted file [l:14 ml:15]"\??\C:\WINDOWS"\[l:12]"winhlp32.exe" from store

So, we need to avoid deleting or renaming the factory default version of Winhlp32.exe and the corresponding .mui file. That's why we changed the file names by suffixing _legacy, in Step 6 above.
Step 2: Associate .hlp files with legacy Winhlp32 (legacy version)
The next step is to associate WinHelp .hlp files with Winhlp32_legacy.exe. Follow these steps:
Locate a .hlp file in your computer, right-click on the file and choose Properties.

Click on the Change button.
Click More apps


Click Look for another app on this PC.

Locate C:\Windows\Winhlp32_legacy.exe in the browse dialog and select it.
You've now associated .hlp files with the legacy (Windows 8) version of Winhlp32.exe. Double-click a .hlp file to test.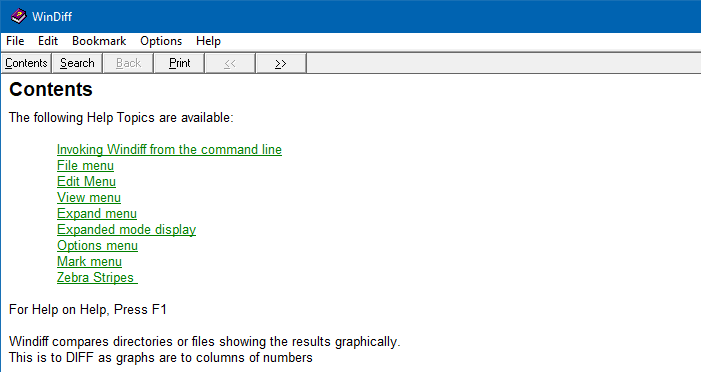 Why was WinHlp32 discontinued by Microsoft?
Around March 2006, the Microsoft Help team announced that WinHelp would be deprecated (phased out). Ted Dworkin (Director of Windows Support Experience) said this:
"WinHelp does not meet the code standards established for Vista. These standards include security, reliability, and performance. WinHelp is architected in such a way that we would have to rewrite it from the ground up to meet the Vista code standards. And that approach doesn't make sense given that we have two other Help systems in Vista."
Microsoft recommends that software developers discontinue using the Windows Help application, and transition their Help experience to an alternative Help file format, such as CHM, HTML, or XML.
---
One small request: If you liked this post, please share this?
One "tiny" share from you would seriously help a lot with the growth of this blog. Some great suggestions:
Pin it!
Share it to your favorite blog + Facebook, Reddit
Tweet it!
So thank you so much for your support, my reader. It won't take more than 10 seconds of your time. The share buttons are right below. :)
---
About the author
Ramesh Srinivasan founded Winhelponline.com back in 2005. He is passionate about Microsoft technologies and he has been a Microsoft Most Valuable Professional (MVP) for 10 consecutive years from 2003 to 2012.