When you download files and save to a folder other than the Downloads directory, error "There are no more files" occurs and the file is not saved locally. This also happens when saving files from various applications, like Notepad, WordPad or Office.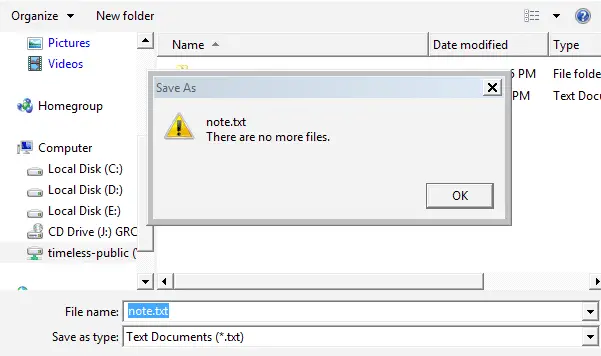 This seems to happen mostly in ASUS computers where ASUS Data Security Manager software is pre-installed.
ASUS Data Security Manager is a data protection program developed by ASUSTek Computer Inc. The program's main purpose is to add another layer of protection by combining network accounts and user passwords using a single data called the User Identity. It also prevents others from accessing the notebook without permission from the owner.
To prevent the error "There are no more files", stop the ASUS Data Security Manager service using these steps:
Launch services.msc via the Run dialog or Start menu
Right-click ASUS Data Security Manager (ADSM) service and click Stop.
Attempt to download or save files using various programs.
If the issue remains unresolved, uninstall ASUS Data Security Manager using Programs and Features, or Apps & Features in Windows 10. However, before uninstalling, take appropriate measures to backup the ADSM user encryption key(s) and vaults or decrypt your data if you have previously used this program to encrypt your files. For more information on encryption keys and vaults, check with ASUS support.
In ASUS computers running Windows 10, this issue seems to have first surfaced after installing the Cumulative Update KB4022725 (June 13, 2017) OS Build 15063.413 and 15063.414. This update may have triggered the error, although there is no official confirmation from Microsoft or ASUS.
From BullGuard support forum:
I've disabled all services and the problem went away. The moment I enabled BullGuard the issue came back. The problem seems to be the result of bullguard. I have also had pc world runs checks and they too confirm BullGuard has causing the problem.
and
This issue is caused by a software conflict between BullGuard Update and Asus Data Security Manager. I recommend you to uninstall the Asus utility and reboot your computer. The problem should be gone after reboot. — Senior Support Technician, BullGuard
A user on the Kaspersky support forum said this:
I have found the cause of my several problems. All the symptoms pointed to websites, downloads, etc, being blocked. Further research showed that the problem was caused by a recent Windows update KB4022725. It seemed to adversely affect ASUS computers. The solution is to remove the Windows update or disable the ASUS data security manager.
Updating to the latest Cumulative Update might resolve the problem. The current Windows 10 version is 1709, and the OS Build 16299.19 (KB4043961 — Released on October 17, 2017.)
If nothing helps, do a clean boot by disabling third-party services and startup entries. See how to clean boot Windows using the Autoruns utility, or follow Microsoft's method using MSCONFIG to clean boot: How to perform a clean boot in Windows.
---
One small request: If you liked this post, please share this?
One "tiny" share from you would seriously help a lot with the growth of this blog. Some great suggestions:
Pin it!
Share it to your favorite blog + Facebook, Reddit
Tweet it!
So thank you so much for your support. It won't take more than 10 seconds of your time. The share buttons are right below. :)
---