This post explains how to clean boot Windows using the Autoruns utility from Microsoft. Clean boot is nothing but starting Windows without 3rd party services and startup programs. This procedure is done to find out the which program, service or a module is causing a specific problem in Windows. Once you narrow down the offending program or module, remove the program, and enable all other items that you've disabled earlier, to come out from clean boot to normal state.
(Microsoft has a nice article on this topic How to perform a clean boot in Windows, which instructs how to do a clean boot using the System Configuration Utility (msconfig.exe) in Windows. This post tells you how to clean boot using the excellent Autoruns utility from Windows SysInternals. Autoruns is even better as it allows you to eliminate additional components, such as 3rd party shell extensions and scheduled tasks etc.)
How to Clean Boot Windows Using Autoruns?
Procedure
Note: Following this procedure, you may need to restart Windows multiple times until you narrow down the program causing the problem. After completing each step (except for step #1), restart Windows and see if the problem persists. If that doesn't help, proceed to next step and restart again. If the procedure in a step solves the problem, you don't need to proceed to the next step.
#1 Preliminary Steps: Create Restore Point and configure Autoruns
First, create a Restore point. Then download Autoruns. Right-click Autoruns.exe and choose Run as Administrator.
From the Options menu, enable the option Hide Microsoft Entries. This is to make sure you don't accidentally remove any standard or Microsoft entries using this utility.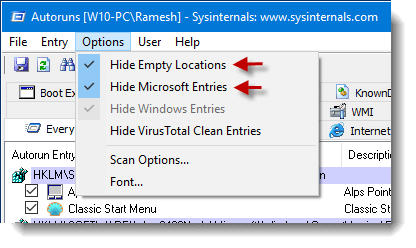 Autoruns starts scanning automatically. If it doesn't, refresh the view by clicking the Refresh button in the toolbar.
#2 Disable Startup Entries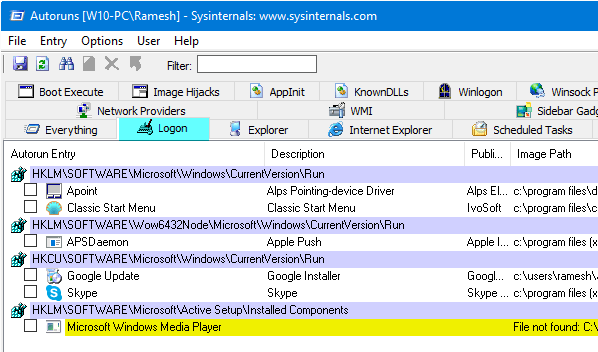 Click the Logon tab, and uncheck all* the entries displayed.
*Special Note – Important: The Autorun entry "Userinit" (Description: Userinit Logon Application) doesn't usually appear in the Logon tab if you Hide Microsoft or Windows Entries. In case it appears (in a malware-infested system) even if "Hide Microsoft entries" and/or "Hide Windows entries" are enabled in the Options menu, DO NOT uncheck or delete the Userinit entry. Fixing the "Userinit" requires special care. This is very important.

#3 Disable 3rd Party Shell Extensions
Click the Explorer tab, and disable all shell extensions displayed.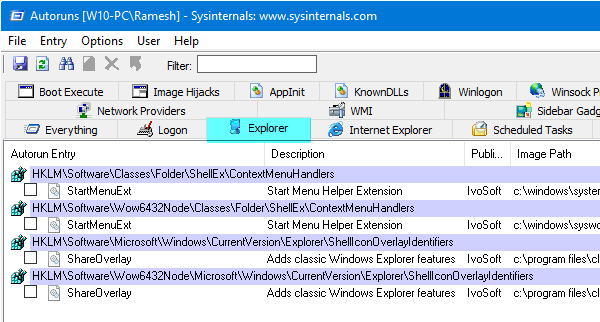 #4 Disable 3rd Party Services
Click the Services tab, and uncheck all the 3rd party services listed.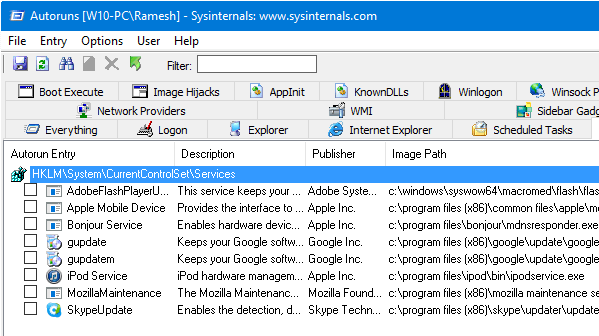 Narrow Down the Offending Program, Service or Module
If disabling all 3rd party services and rebooting Windows help you resolve a problem, the next step is narrow down the *particular* service causing the problem. To find it out, re-enable first half of the services and restart Windows. If the problem doesn't re-occur, re-enable half of the services from the lower half (i.e. half of the lower half).
Repeat these steps until you find out which item is causing the problem. Use the same logic for startup programs and shell extensions; but note that for startup programs and shell extensions, you don't need to restart Windows… logging off and logging back on should be sufficient.
Revert back to Normal state
Once you find the item causing the problem, remove or disable it. Enable all other items and restart Windows. You're now back to normal mode.
---
One small request: If you liked this post, please share this?
One "tiny" share from you would seriously help a lot with the growth of this blog. Some great suggestions:
Pin it!
Share it to your favorite blog + Facebook, Reddit
Tweet it!
So thank you so much for your support. It won't take more than 10 seconds of your time. The share buttons are right below. :)
---