When you attempt to create a new Restore Point, the error 0x80042308 may pop up and the restore point isn't created:
The restore point could not be created for the following reason:
The specified object could not be found. (0x80042308)
Please try again.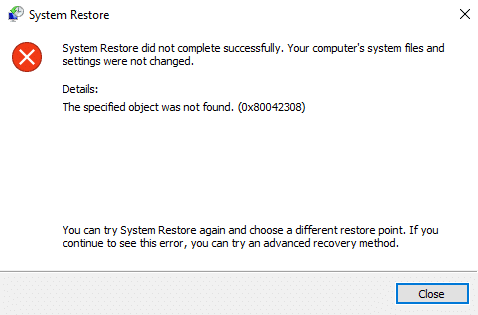 Also, the same error code appears when you create a backup using the built-in Windows Backup and Restore tool. It reports the following error:
The backup did not complete successfully. A shadow copy could not be created for the following reason: The specified object was not found. (0x80042308)
And the failed backup task records an event log entry with ID: 4100.
Log Name:      Application
Source:        Windows Backup
Date:          
Event ID:      4100
Task Category: None
Level:         Error
Keywords:      Classic
User:          N/A
Computer:      
Description:
File backup failed because a shadow copy could not be created. The system might be low on resources. The error is: (0x80042308).

Fix: System Restore Error 0x80042308 "Object could not be found"
The error 0x80042308 may be caused by corrupted volume shadow storage, antivirus software interference, or even due to low disk space.
If temporarily disabling your antivirus software doesn't help, clear out all the shadow copies or restore points, and restart the Volume Shadow Copy service. If nothing helps, you may attempt a clean boot troubleshooting to narrow down the issue.
Step 1: Clear all restore points
Press Winkey + R to bring up the Run dialog.
Type sysdm.cpl and press ENTER
In System Protection tab, select the available drives which have protection on
Click Configure, click "Turn off system protection" or "Disable system protection" (in Windows 10).
Click Apply and click Yes when you see the following prompt:

Are you sure you want to turn off system protection on this drive?

Existing restore points on the disk will be deleted and new restore points will not be created. You will not be able to use System Restore to undo unwanted system changes on all drive.

Turn on the System Protection for the system drive.
---
Step 2: Restart the Volume Shadow Copy Service
Click Start, type in services.msc and then press ENTER
Double-click the Volume Shadow Copy Service (VSS)
Click the Stop button to stop the service.
Click the Start button to restart it.

Make sure that the start type of VSS service is set to Manual.
---
Step 3: Clean boot Windows
Disable 3rd party service and Startup programs using Microsoft Sysinternals' Autoruns tool and restart Windows. See if you're able to use System Restore or Windows Backup & Restore features without getting the error 0x80042308.
Perform steps #2 "Disable Startup Entries" and #4 "Disable 3rd Party Services" in the article How to Clean Boot Windows Using the Autoruns Utility.

If disabling all 3rd party services and rebooting Windows help you fix the System Restore or Windows Backup, the next step is narrow down the exact service that is causing the problem. To find it out, re-enable first half of the services and restart Windows. If the problem doesn't re-occur, re-enable half of the services from the lower half (i.e. half of the lower half).
Clean Boot troubleshooting helps you narrow down a problem. It involves disabling a set of startup programs and Services and then restart the computer. If the issue remains unresolved, you need to disable the remaining set of entries. This way you can isolate which set of programs or Services is causing the problem, and eventually single out the culprit.
Note:
You can do a clean boot using the built-in System Configuration Utility (msconfig.exe) as well. Microsoft has a clear guide on that topic. See
How to perform a clean boot in Windows
.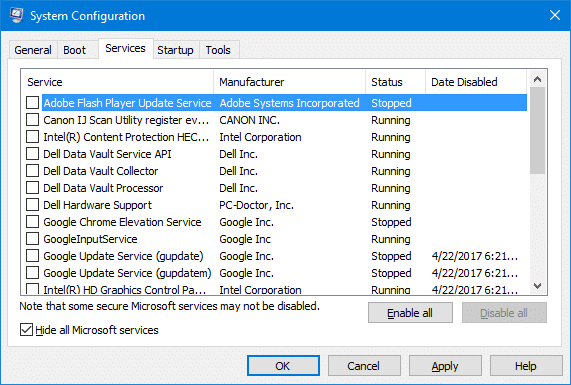 Hope one of the routines above helped you resolve System Restore error 0x80042308 (80042308) "The specified object could not be found."
---
One small request: If you liked this post, please share this?
One "tiny" share from you would seriously help a lot with the growth of this blog. Some great suggestions:
Pin it!
Share it to your favorite blog + Facebook, Reddit
Tweet it!
So thank you so much for your support, my reader. It won't take more than 10 seconds of your time. The share buttons are right below. :)
---
About the author
Ramesh Srinivasan founded Winhelponline.com back in 2005. He is passionate about Microsoft technologies and he has been a Microsoft Most Valuable Professional (MVP) for 10 consecutive years from 2003 to 2012.