Registry Editor in Windows 10 has a useful option that allows you to switch quickly between a registry key in HKEY_LOCAL_MACHINE and HKEY_CURRENT_USER when an identical branch exists under both.
Root keys are keys present at the root level of the registry, with their names beginning with "HKEY". The following are the root keys:
HKEY_CLASSES_ROOT (HKCR for short)
HKEY_CURRENT_USER (HKCU)
HKEY_LOCAL_MACHINE (HKLM)
HKEY_USERS (HKU)
HKEY_CURRENT_CONFIG (HKCC)
If HKEY_CURRENT_USER and HKEY_LOCAL_MACHINE have identical registry subkeys, you can switch between the two branches quickly by right-clicking on a key and clicking Go to HKEY_CURRENT_USER or Go to HKEY_LOCAL_MACHINE.
Let's take the case of Run registry keys. Startup entries for your current user account are stored here:
HKEY_CURRENT_USER\Software\Microsoft\Windows\CurrentVersion\Run
And the per-system Startup entries are here:
HKEY_LOCAL_MACHINE\Software\Microsoft\Windows\CurrentVersion\Run
When you're in the HKCU..\Run branch, you can quickly switch to HKLM..\Run and the other way round using the "Go to …" right-click menu option. The option doesn't appear if no identical branch exists under the other root key.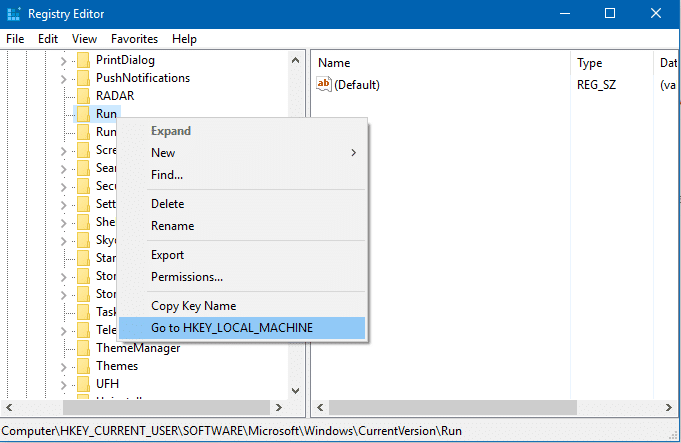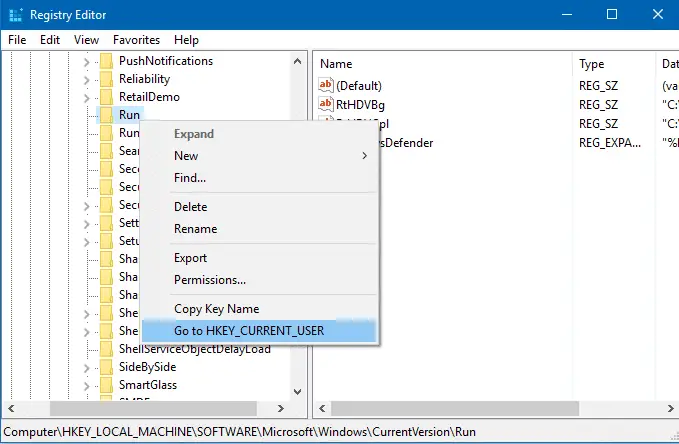 Not many users know about this useful feature which exists in Windows 10.
Also, from Windows 10 Creators Update (or Redstone 2, v1703) and higher, the Registry Editor has an address bar that you can use to directly jump to a specific key. You can change the default Registry Editor font as well.
---
One small request: If you liked this post, please share this?
One "tiny" share from you would seriously help a lot with the growth of this blog. Some great suggestions:
Pin it!
Share it to your favorite blog + Facebook, Reddit
Tweet it!
So thank you so much for your support. It won't take more than 10 seconds of your time. The share buttons are right below. :)
---