In Windows 11 22H2, Microsoft has replaced the legacy Print Dialog for all classic (win32) apps, e.g., Notepad, WordPad, Notepad++, etc., with a new dialog. Earlier, this dialog was available only for UWP apps (aka Store apps). Also, there is a new Print Queue dialog introduced in this version.
However, in the modern print dialog, the preview pane always shows "No preview available," irrespective of the previewed file type. Furthermore, on some systems, the title bar reads "Printing from Win32 application" instead of the program's name — e.g., Notepad++.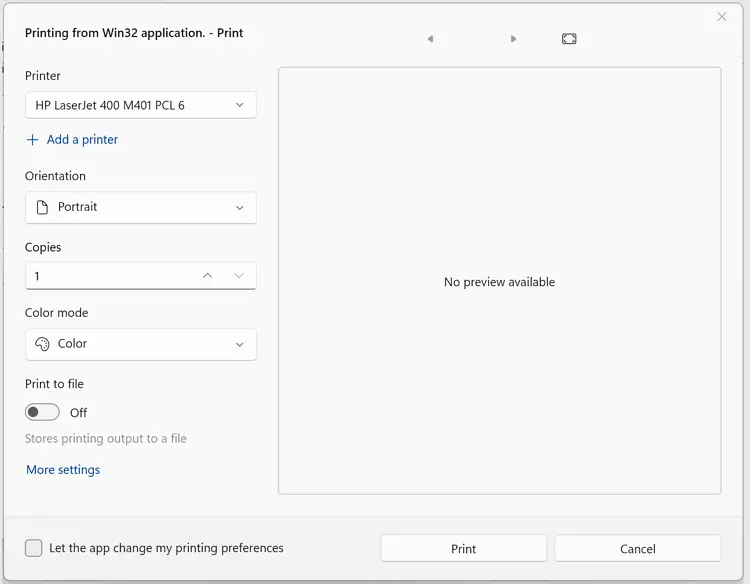 To access the printer preferences dialog (specific to the chosen printer), click on the "More settings" link at the bottom left of the new print dialog.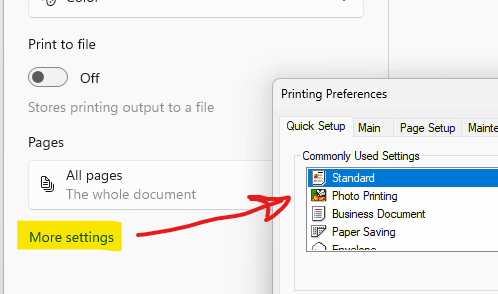 If you see no use in this new Print dialog, fortunately, you can revert to the old/legacy Print dialog in Windows 11 22H2.
Restore the Old Print Dialog in Windows 11 22H2
Follow one of these methods to bring back the old print dialog in Windows 11.
Using Command Prompt
Open a Command Prompt window:
Type the following command exactly as given below, and press Enter:
reg add "HKCU\Software\Microsoft\Print\UnifiedPrintDialog" /v "PreferLegacyPrintDialog" /d 1 /t REG_DWORD /f
If the command was executed correctly, you should see the message "The operation completed successfully."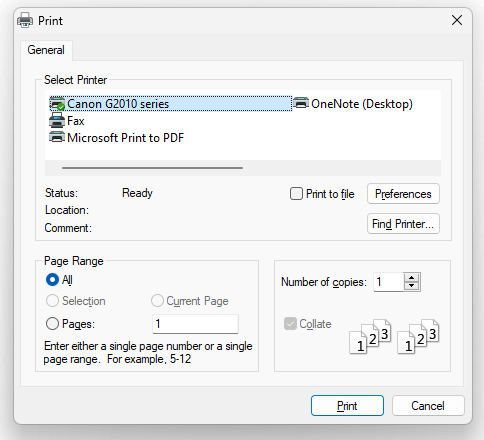 Using Registry Editor
Alternately, you can start the Registry Editor (regedit.exe) and go to the following branch:
HKEY_CURRENT_USER\Software\Microsoft\Print\UnifiedPrintDialog
Create a new REG_DWORD value named PreferLegacyPrintDialog
Set PreferLegacyPrintDialog data to 1.
Exit the Registry Editor.
REG File to automate or deploy the above setting.
Windows Registry Editor Version 5.00

[HKEY_CURRENT_USER\Software\Microsoft\Print\UnifiedPrintDialog]
"PreferLegacyPrintDialog"=dword:00000001


I hope that helps. Let's know.
---
One small request: If you liked this post, please share this?
One "tiny" share from you would seriously help a lot with the growth of this blog. Some great suggestions:
Pin it!
Share it to your favorite blog + Facebook, Reddit
Tweet it!
So thank you so much for your support. It won't take more than 10 seconds of your time. The share buttons are right below. :)
---