Malwarebytes Premium is an all-in-one security suite which guards the system against ransomware, exploits, malware and also provides web protection. In some systems, Malwarebytes Web protection module may get disabled, and the message Real-Time Protection layers turned off is shown in the notification area at every startup.
Real-Time Protection layers turned off
One or more Real-Time Protection layers are turned off. Turn on all Real-Time Protection layers to block and prevent threats.
The above warning is supposed to appear only when one or more of the following features is turned off:
Web Protection
Exploit Protection
Malware Protection
Ransomware Protection
However, Malwarebytes may display the warning at every startup although all four protection settings are turned ON.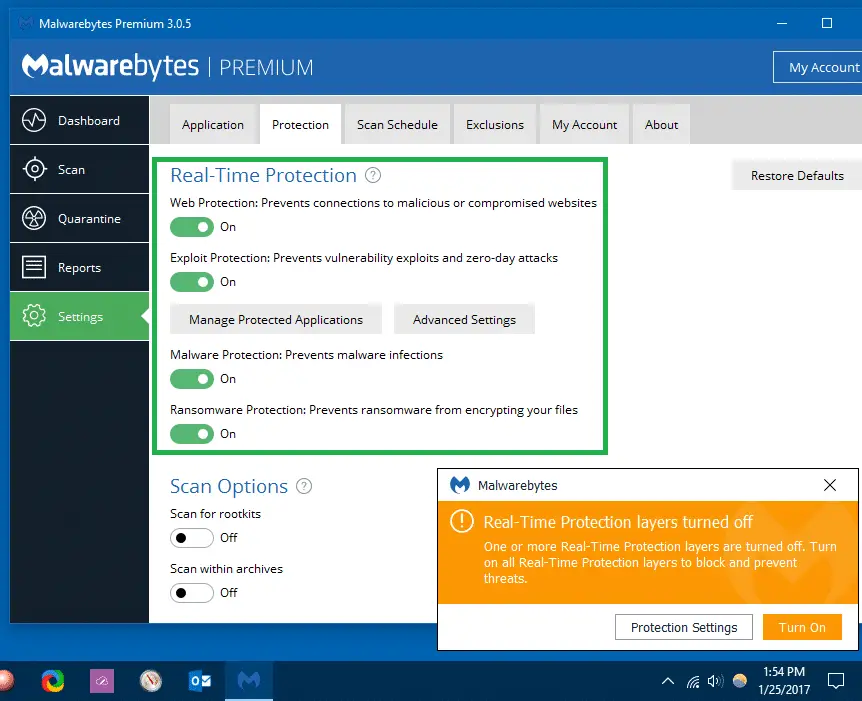 To fix the issue, make sure you've updated Malwarebytes to the latest version and restart Windows. If that doesn't help or if you're already using the latest version and yet the problem occurs, use these steps:
Instructions

Step 1: Clean
- Uninstall Malwarebytes
- Reboot your computer.
- Download and run the MBAM-clean tool from the link below. This tool will remove any remnants of earlier versions of Malwarebytes prior to version 3.0.
(For more information, see How-To: Use the Malwarebytes Clean Uninstall Tool | Malwarebytes Support)
** "MBAM Clean Tool Download":https://downloads.malwarebytes.org/file/mbam_clean
- Reboot your computer


Step 2: Installation
- Download and Run the latest version of Malwarebytes installer from the link below:
** "Download MB3 Installer": https://www.malwarebytes.com/mwb-download/thankyou/
- Locate and double click the file, mb3-setup-consumer.exe, to run the installer:
** You may see a notification explaining that your existing Malwarebytes Anti-Malware, Malwarebytes Anti-Exploit, or Malwarebytes Anti-Ransomware (Beta) applications need to be uninstalled before you can install Malwarebytes 3.0.
- Press Accept, then follow this prompts on the installer window.
- Malwarebytes will open automatically to the new welcome screen.
- If you have a premium subscription for either Malwarebytes Anti-Malware or Malwarebytes Anti-Exploit Proceed to Activation.

Step 3: Activation (Premium Subscribers Only)
- If you do not already have your license key on hand, You can obtain your license info here:https://support.malwarebytes.com/customer/portal/articles/1835295-how-do-i-obtain-my-license-key-or-confirmation-email-?b_id=6400
- Press the Activate button in the top right.
** If you only see a My Account button in the top right your license has already migrated over. Please click My Account to verify.
- Copy and Paste your License info to the appropriate boxes.
** If your activation info has an ID press the "My license came with a License ID" _link_
- Click the Activate button to activate your Malwarebytes 3.0 Premium license
- Restart your PC one more time.


Src: Malwarebytes Forums
Information in this post applies if you have Malwarebytes 3.0.x Premium version, either the licensed copy or its 14-day trial version. The free version of Malwarebytes doesn't have Web, Exploit and Ransomware protection features.
See also
Malwarebytes High Memory (RAM) Usage Problem (version 3.3.1 problem reported on 27/Jan/2018)
---
One small request: If you liked this post, please share this?
One "tiny" share from you would seriously help a lot with the growth of this blog. Some great suggestions:
Pin it!
Share it to your favorite blog + Facebook, Reddit
Tweet it!
So thank you so much for your support. It won't take more than 10 seconds of your time. The share buttons are right below. :)
---