Malwarebytes Premium (3.3.1) users are reporting a problem where the program uses an enormous amount of memory and usage goes on increasing even up to 20GB or more. I believe the Malwarebytes support/development team is looking into the memory leak issue and here is a huge thread on the Malwarebytes forums (RAM usage – what is going on?) where many users have posted their concerns.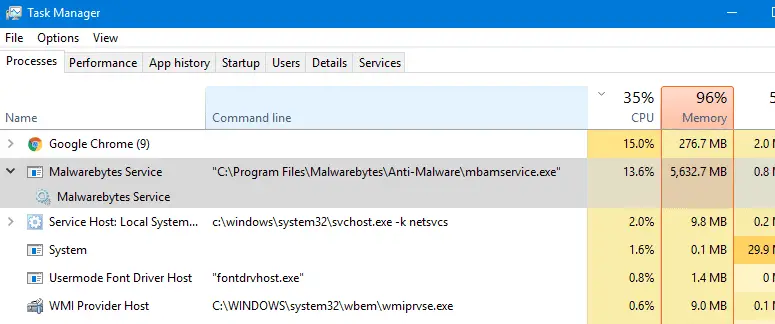 Quoting Malwarebytes Support Team member RubbeR DuckY:
We're aware of an issue with a protection update that shipped an hour ago that is causing all web traffic to be blocked and RAM usage to climb. We are triaging this right now with all hands on deck. I will have an update shortly with the root cause and will share with all of you as I get information.

I completely appreciate the pain this is causing our users and we are working hard to resolve this.
For now, I've disabled Malwarebytes service via Services MMC (services.msc) and restarted Windows. Right now only Windows Defender is guarding my computer.
Update (28/1/2018): The database package update version 1.0.3803 fixes this problem. Make sure you restart Windows after updating. In some cases, a second or even third reboot may be needed, say the Malwarebytes support team. To verify you have this update, open Malwarebytes Dashboard, click Settings -> About.  Update package version should be 1.0.3803 (or higher)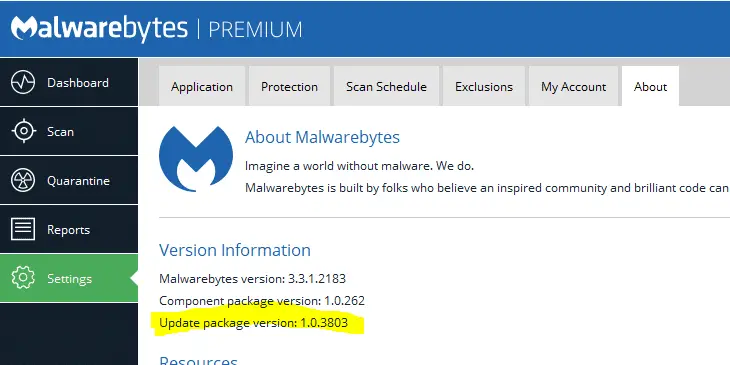 Check out this Malwarebytes Forums thread for details. If you're unable to launch the Malwarebytes Dashboard to update the database, uninstall Malwarebytes via Programs & Features or Apps & Features in Windows 10 and download the latest installer from Malwarebytes website & activate the license.
---
One small request: If you liked this post, please share this?
One "tiny" share from you would seriously help a lot with the growth of this blog. Some great suggestions:
Pin it!
Share it to your favorite blog + Facebook, Reddit
Tweet it!
So thank you so much for your support. It won't take more than 10 seconds of your time. The share buttons are right below. :)
---