I'd like to share the extensions I made for Internet Explorer, to open current web page in a different browser such as Google Chrome, Mozilla Firefox and Microsoft Edge (Windows 10). This extension works fine in all versions of Windows, including Windows 10.
After adding this extension, you'll see the following options in the right-click menu, as well as in the Tools menu in Internet Explorer.
Open With Google Chrome
Open With Mozilla Firefox
Open With Microsoft Edge
Download Extensions
Download the required extensions below.
Mozilla Firefox : firefox.zip
Google Chrome: chrome.zip
Microsoft Edge: edge.zip
Instructions
Download the appropriate Zip file above, unzip and extract the contents to following directory.
C:\Windows\Web
Then, open the above directory, and double-click the corresponding Registry File to apply the settings. For example, to add Firefox, double-click firefox.reg. This adds "Open With Firefox" option to the right-click menu, under the Tools menu as well and also a button to the Internet Explorer Command Bar.
Customize the Command Bar
Close all Internet Explorer windows and then re-open. If the button isn't visible by default, you need to customize the Command Bar. To do so, right-click on the empty toolbar area in Internet Explorer, click Customize, and click Add or Remove Commands…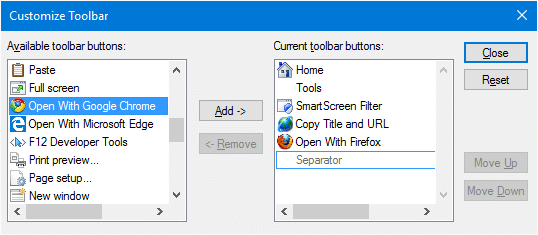 Add the required buttons and close the dialog.
You now have three buttons in the Command Bar that open current webpage using Google Chrome, Mozilla Firefox and Microsoft Edge.
Also, the extensions show up when you click the Tools menu, and when you right-click on a webpage.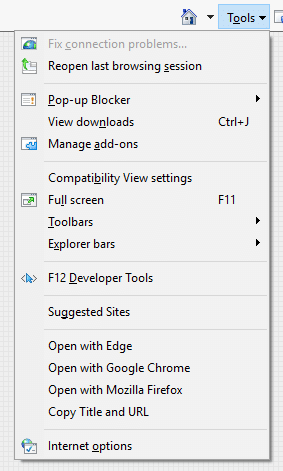 First time warning
Clicking one of the added icons in the Command Bar would display a Internet Explorer Security window indicating that the program (Edge / Firefox / Chrome) would open outside of Protected mode. You can enable "Do not show me the warning for this program again" (and click "Allow") if you don't want to see the dialog box from the next time.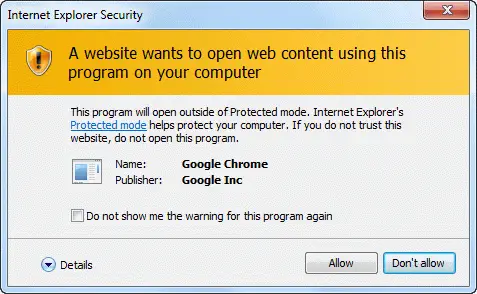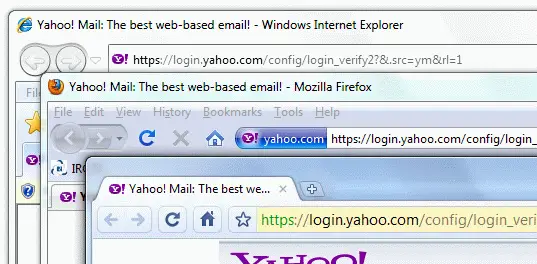 That's it!
Similar Add-On for Mozilla Firefox
If you need a similar Add-On for Firefox, check out the Open With Add-on at mozilla.org, which adds additional menu options to open the current web page using another browser. This Add-On comes in handy if you need to test your web pages out in Internet Explorer, Chrome, Safari, Opera or any other web browser.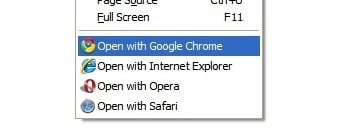 See also
How to Open .URL Files (Internet Shortcuts) Using Different Browsers from the Right-Click Menu
---
One small request: If you liked this post, please share this?
One "tiny" share from you would seriously help a lot with the growth of this blog. Some great suggestions:
Pin it!
Share it to your favorite blog + Facebook, Reddit
Tweet it!
So thank you so much for your support. It won't take more than 10 seconds of your time. The share buttons are right below. :)
---