The Photos app has been redesigned to align with the new visual design of Windows 11. Some of the features include rounded corners, Mica material, and updated typography styling. However, many users still prefer the Windows 10 version of Photos.
The Windows 11 Photos app doesn't have the Spot Fixing and Red Eye tool. These two features are available on Windows 10 v21H2 Photos app as of this post.
If you're wondering how to install the older version (Windows 10 Photos app) of the app on Windows 11, then this post is for you.
As of this post, the latest version numbers of the Photos app are given below:
Windows 10 v21H2 Build 19044.1889 — Photos App version 2022.30070.26007.0
Windows 11 v21H2 Build 22000.856   — Photos App version 2022.31070.26005.0
Install Windows 10 Photos App on Windows 11
You can download the Appx installer package for the Microsoft Photos app version 2022.30070.26007.0 below:
After downloading the files, rename them accordingly, exactly as given above.
Need another version of the Photos app or any other app?
If you want to download the installer package for any other version of the Photos app, visit the following site:
Microsoft Store - Generation Project (v1.2.3) [by @rgadguard & mkuba50]:
https://store.rg-adguard.net/
On the above portal, paste the following URL:
https://apps.microsoft.com/store/detail/microsoft-photos/9WZDNCRFJBH4
Select "Retail" and generate the download links.
Note: That's how we downloaded the Microsoft Store app, as mentioned in the Reinstall Microsoft Store article. Using this method, you can get the AppX installer file for almost any Store app.
Run the Appxbundle file on your Windows 11 computer. It will prompt you with the following message:
Microsoft Photos is already installed

Newer version already installed

You already have a newer version 2022.31070.26005.0 of this application installed. Are you sure you want to reinstall version 2022.30070.26007.0?
Click "Reinstall"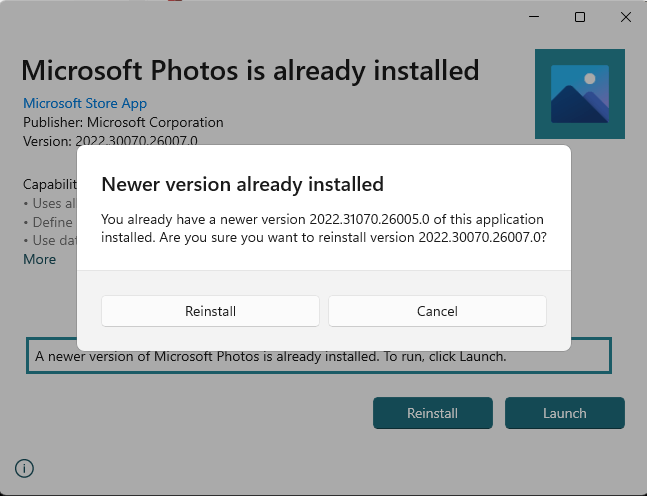 That's it. This installs (i.e., downgrades the inbox Photos app version) the Windows 10 version of Photos on Windows 11.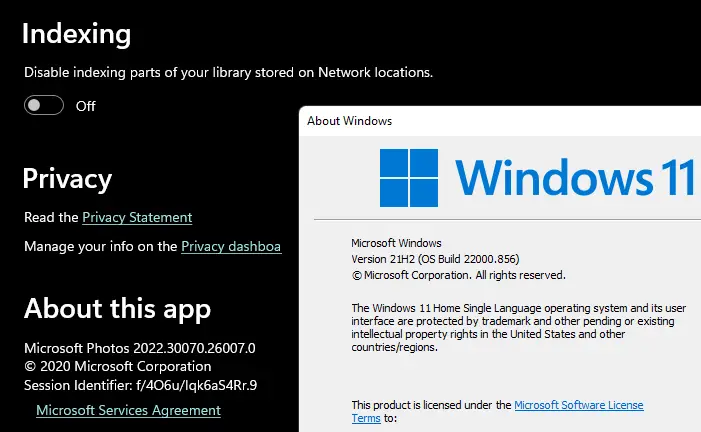 Stop Store App Auto Updates
Next, open the Store app, and access the Settings page.
Turn off "App updates."

Note that after doing so, you'll need to update each app manually in the future.
The above method works well on the mentioned Windows 11 Build. However, there is no guarantee that it will work in future versions of Windows 11.
---
One small request: If you liked this post, please share this?
One "tiny" share from you would seriously help a lot with the growth of this blog. Some great suggestions:
Pin it!
Share it to your favorite blog + Facebook, Reddit
Tweet it!
So thank you so much for your support. It won't take more than 10 seconds of your time. The share buttons are right below. :)
---