With the Redstone update, Sticky Notes has been transformed into a modern (UWP) program with new features added. The original desktop version of Stick Notes is discontinued and the last desktop version of the StikyNot.exe is 10586.494.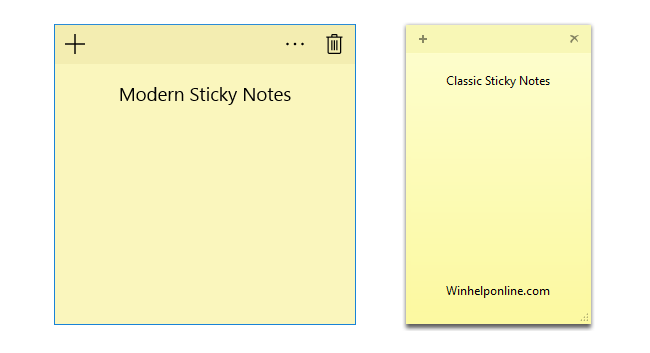 The above is the minimum width you can set for the modern Sticky Notes, which can be very inconvenient for users.
Sticky Notes Old vs New – Which one do you prefer?
Modern Sticky Notes
If you prefer the new Sticky Note UWP app and want to convert your legacy Sticky Notes data file (StickyNotes.snt), there is a neat trick to transfer/convert it to the new database file format. Check out the article Convert Old "Sticky Notes" Data to New format in Windows 10 for more information.
Classic Sticky Notes
If you're not going to use the new features (Cortana integration, Ink) of the modern Sticky Notes app, you can get the classic desktop version (StickNot.exe) after upgrading to the Windows 10 anniversary update (v1607) build.
If the C:\Windows.old…Windows\System32 directory is still intact, simply copy "StikyNot.exe" to your Windows\System32 folder and create a shortcut to it on your desktop. Also, make sure you copy StikyNot.exe.mui file from "Windows\System32\en-US" folder (for English language version of Windows), and place it in the same path in the target computer. The program still works in Windows 10 version 1607.
Another option would be to obtain the ISO image of 10586.494 (preferably) and extract the two files StikyNot.exe and StikyNot.exe.mui using 7-Zip or similar archive utility.
If none of those options are feasible, you may download it from this site.
Download StikyNot.zip (StikyNot.exe file version 10586.589).
Related Articles
Backup and Restore "Sticky Notes" Data File in Windows 10
Convert Old "Sticky Notes" Data to New format in Windows 10
Re-Enable Sticky Notes Delete Confirmation Prompt in Windows
---
One small request: If you liked this post, please share this?
One "tiny" share from you would seriously help a lot with the growth of this blog. Some great suggestions:
Pin it!
Share it to your favorite blog + Facebook, Reddit
Tweet it!
So thank you so much for your support. It won't take more than 10 seconds of your time. The share buttons are right below. :)
---