Every time you shutdown or restart your computer, you may encounter the following error message titled "BitDefender Threat Scanner". Here is the full error message verbatim:
A problem has occured in BitDefender Threat Scanner. A file containing error information has been created at C:\Windows\TEMP\BitDefender Threat Scanner.dmp. You are strongly encouraged to send the file to the developers of the application for further investigation of the error.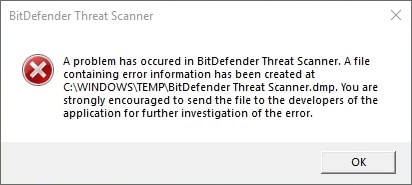 This error can occur even though you don't have BitDefender Antivirus installed on your computer, but have one of these antivirus programs installed:
SurfRight (HitmanPro)
Ashampoo
Qihoo
TrustPort
ArcaBit
BullGuard
Chili Security
Emsisoft
eScan
EstSoft (ALYac, Roboscan)
F-Secure
G DATA
HAURI (ViRobot)
IMEN
Immunet
Lavasoft (Ad-Aware)
nProtect
PSafe
Quick Heal (TS)
SafeNSoft
SecurityCoverage (SecureIT)
SourceNext (ZSS only)
Tencent
ThreatTrack Vipre
TotalDefense
VirusChaser

According to av-comparatives.org's List of AV Vendors page, the above programs use BitDefender anti-virus scan engine. Note that some programs on that list use multiple scan engines in addition to BitDefender's. Many anti-virus programs combine the Bitdefender engine with their own technology.
[Fix] BitDefender Threat Scanner .dmp Error in Windows
If you use "Spybot Search & Destroy"
Spybot Search & Destroy uses BitDefender engine but it's not listed on the above av-comparatives.org page. If you're using Spybot Search & Destroy, use the following steps to fix the BitDefender Threat Scanner.dmp error:
Open File Explorer and browse the Spybot program folder:

C:\Program Files (x86)\Spybot – Search & Destroy 2

Check if a 32Kb file named SDAV.dll is present. Spybot KB says that this file may have been removed accidentally by another antivirus or security suite installed on your computer. Update: Spybot's support article says "This issue has been resolved in the latest version of Spybot."
If the file is not present, download this file from "Missing Files" page on the SpyBot S&D website and copy the file into your Spybot folder.
If the file is present, please check the file to see if it is the same size as the downloaded file. (32KB). If the file has been corrupted, please replace it with the downloaded file.
Completely Uninstall and Custom Install Spybot S&D
In case the above steps don't resolve the problem, follow these steps listed by Spybot S&D support team, as quoted by user "Marcel" on Spybot S&D support forums. Posting that info below:
If you are using the Free Edition, please uninstall then reinstall Spybot. Before uninstalling Spybot, it is recommended to undo Immunization to avoid issues with the uninstallation process.
It is also recommended to view Spybot's Quarantine to restore any items you would like to keep that were detected by Spybot. Once Spybot is uninstalled, these files cannot be restored. After Spybot has been uninstalled it is recommended to delete the following folders:
[On 64-bit/x64 PC] C:\Program Files (x86)\Spybot – Search & Destroy 2
[On 32-bit/x86 PC] C:\Program Files\Spybot – Search & Destroy 2
C:\ProgramData\Spybot – Search & Destroy
Please note that the ProgramData Folder is hidden. If you can't find this folder, please check your folder properties to ensure hidden files/folders are displayed on your PC:
Open Windows Explorer (or any folder).
Click on "Organise", then go to "Folder and search options".
Click on "View", then select "Show Hidden Files, Folders and Drives".
You should then restart your PC for the changes to take effect.
When you reinstall Spybot please go through with a Custom Installation. To do this, select the option for "I want more control, more feedback and more responsibility" in the Installation & Usage Mode page of the Setup.
Next, untick the box beside "Files necessary for antivirus scanning" in the Select Components window of the installer then complete the installation of Spybot. This should prevent the Bitdefender file from being installed which will stop this error from occurring.
For further help on this matter, open a support ticket with official Spybot S&D Anti-malware and Antivirus Technical Support.
The above seems to work for many users. One of the users on Spybot support forum gives this feedback:
I have tried this and it works fine again without ever causing the popup or any messages on shutdown. The Bitdefenderthreatscanner.dmp file is no longer created in Windows/Temp anymore. Thank you so much for posting this solution until they can fix it.
If you use BitDefender Antivirus
If you're using Bitdefender Antivirus Free Edition, Bitdefender Antivirus Essentials and Bitdefender Essential Security, visit the link Bitdefender Antivirus Free – Threat Scanner error for an official patch by the Bitdefender support.
If you're not using Spybot S&D or BitDefender Antivirus / security suite, check if you have any product installed on your computer that uses Bitdefender's scanning engine (refer av-comparatives.org list above). And then contact the respective vendor for support.
Hope this post helped you get rid of the BitDefender Threat Scanner.dmp error in your Windows computer.
---
One small request: If you liked this post, please share this?
One "tiny" share from you would seriously help a lot with the growth of this blog. Some great suggestions:
Pin it!
Share it to your favorite blog + Facebook, Reddit
Tweet it!
So thank you so much for your support. It won't take more than 10 seconds of your time. The share buttons are right below. :)
---