When you try to open an image file or video in a modern (UWP) app like Groove, Photos, Movies & TV, the following error may occur:
File system error (-2147416359).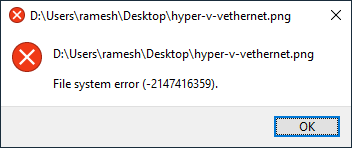 The error is seen only when opening files using modern apps. The classic desktop (win32) apps are not affected by this issue. For instance, you may be able to open the same image using Windows Photo Viewer or Office Picture Manager. Likewise, the same video may open fine in VLC Player, but not in Groove, or Films & TV.
Also, nothing may happen when you launch a store app. For example, nothing happens when you attempt to launch Calculator, Calendar, Mail, Movies & TV, Photos, or any other store app for that matter.
[Fix] File system error -2147416359 in Windows 10
The File system error -2147416359 occurs if the Windows License Manager Service (LicenseManager) service is disabled or not able to start. The Windows License Manager Service's official description states:
Provides infrastructure support for the Microsoft Store. This service is started on demand and if disabled then content acquired through the Microsoft Store will not function properly.
It says that if this service is disabled the Store apps wouldn't run correctly. To fix the problem, set the startup type of the service to Manual and see if you're able to start the service manually.
Start the Windows License Manager Service
Launch the Services MMC (services.msc)
Double-click Windows License Manager Service
Set its startup type to Manual
Click Start to start the service.
Click OK and close the Services MMC.
This fixes the error -2147416359 in Windows 10.
---
One small request: If you liked this post, please share this?
One "tiny" share from you would seriously help a lot with the growth of this blog. Some great suggestions:
Pin it!
Share it to your favorite blog + Facebook, Reddit
Tweet it!
So thank you so much for your support. It won't take more than 10 seconds of your time. The share buttons are right below. :)
---