Microsoft Edge uses the Bing search engine by default when you select a word or phrase and search via the right-click menu. This article tells you how to change Edge's default search engine (for the address bar and context menu search) to Google.
Set Google as the default search engine in Edge
Microsoft Edge Chromium
Launch Microsoft Edge and open Settings.
In Settings, click "Privacy, search, and services."
Scroll down to the section named "Services."
Click "Address bar and search."
Set the "Search engine used in the address bar" default search provider to Google.

You can also add or remove search engines from that list by clicking "Manage search engines."
---
Microsoft Edge (Legacy)
A third-party extension for Microsoft Edge allows you to search for a text or phrase using Google via the right-click menu. With this extension, to look up a word or phrase in the current web page on Google, select the text, right-click and click "Search with Google."
This extension is not available from the Windows Store, which means you need to side-load it into Edge if you plan to use it. Use these steps to side-load the extension.
Sideload an extension into Microsoft Edge
Open Microsoft Edge and visit the "about:flags" page.
Select the "Enable extension developer features" checkbox, and restart Edge.
Download the Google-Context-Menu-Edge extension from the project's GitHub page
Extract the contents of the zip file to a folder of your choice.
Select the More (…) icon to open the menu.
Click Extensions, and then click the "Load Extensions" button.
Browse and select the folder where you've extracted the files.
This adds the extension and activates it.
Using the "Search with Google" extension
Visit a website, select some text or phrase, and right-click on the selection.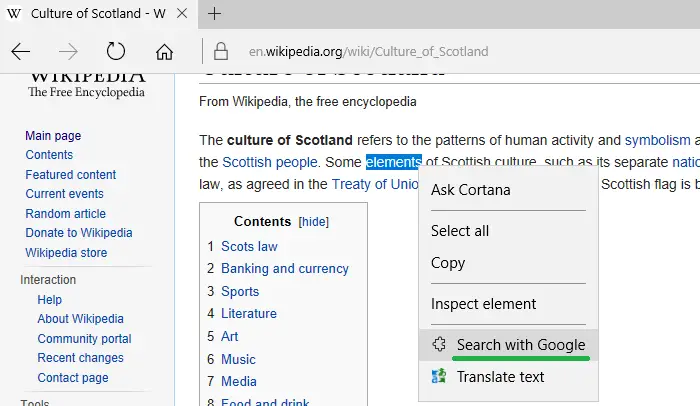 You'll see the "Search with Google" option in the context menu, which, when clicked, opens Google search results in a new tab.
This extension can be beneficial, especially if you've got used to Googling via the right-click menu in various browsers such as Chrome, Firefox, or Internet Explorer. You're no longer limited to using the "Ask Cortana" context menu option (which opens Bing search results in the right pane) in Edge (legacy version).
---
One small request: If you liked this post, please share this?
One "tiny" share from you would seriously help a lot with the growth of this blog. Some great suggestions:
Pin it!
Share it to your favorite blog + Facebook, Reddit
Tweet it!
So thank you so much for your support. It won't take more than 10 seconds of your time. The share buttons are right below. :)
---