The Windows 10/Windows 11 Photos app lets you trim videos and save the selected portion of the video clip to a new file. You don't have to rely upon a third-party program, as the Photos app does the task perfectly — suitable for quick trims.
Cut/Trim or Split videos using Photos App in Windows 10/11
Right-click on a video file and click "Open with" and choose Photos.
Click the Trim button at the top.


On Windows 11, click on the

Video trim

icon (Ctrl + E) to launch the trim window.

In the next screen, select the portion of the video you need, by moving the start and end sliders accordingly.

Trim videos using Windows 10/11 Photos app

On Windows 11, you'll see the "

Save as

" button.

Save the selected portion of the video to a separate file, by clicking "Save a copy".
The selected portion is now saved to a video file in the same folder, with the letters "Trim" added to the file name. If the file name of the original video is Remote_Desktop.mp4, the trimmed copy will be named Remote_DesktopTrim.mp4.
Split a video into multiple clips?
You can use the trim tool to split a big video into a number of small video clips if you want. As the Photos app is suitable for quick trims and is not a sophisticated editor, to split a video into multiple parts you'll need to repeat this sequence:
Open a video, let's say Dogshow.mp4
Split/trim it and save a copy.
Rename the trimmed file accordingly. Eg. rename DogshowTrip.mp4 to Dogshow (Part-1).mp4.
Reopen the original video Dogshow.mp4, choose another time segment, and split it — for Part 2.
Repeat the above sequence for subsequent trim or splits — part 3, part 4, and so forth.
Additional Tip: You can annotate videos using the Draw tool. There is no text tool though which is a big disappointment.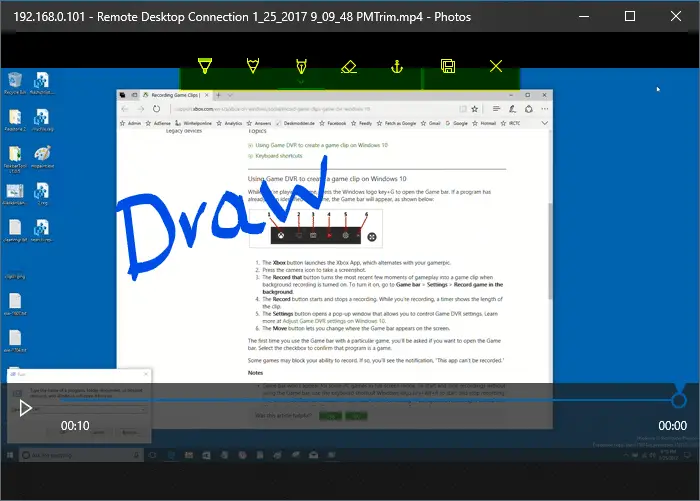 Using the Photos app to split a video into multiple parts is tedious. You can use the FFmpeg command-line tool for this purpose. Check out the article How to Split a Video or Audio (MP3) into Multiple Parts for details. Alternatively, you can use Avidemux or similar freeware programs to cut a segment from an audio or video file.
---
One small request: If you liked this post, please share this?
One "tiny" share from you would seriously help a lot with the growth of this blog. Some great suggestions:
Pin it!
Share it to your favorite blog + Facebook, Reddit
Tweet it!
So thank you so much for your support. It won't take more than 10 seconds of your time. The share buttons are right below. :)
---