The right-click menu in Internet Explorer may get cluttered up when you install download managers, Toolbars and other browser add-ons. The items that you seldom use can be removed to tidy up the right-click menu.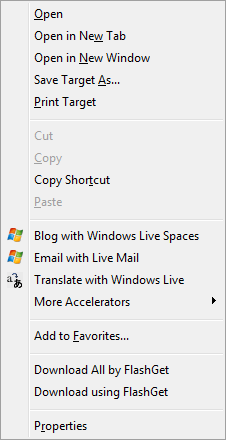 The context menu in Internet Explorer includes the following type of Add-ons:
Accelerators (Internet Explorer 8 only)
Menu extensions (All versions of Internet Explorer)
Accelerators
Accelerators let you act on data in a Web page. For example, you can select a few lines of text and send it to a blog or email it with a click. Internet Explorer 8 comes with the following Accelerators out of the box:
Blog with Windows Live Spaces
Email with Live Mail
Map with Live Maps
Translate with Windows Live
Define with Encarta
Note that "Accelerators" is a new feature introduced in Internet Explorer 8.
To disable unused Accelerators, use these steps:
1. Open Internet Explorer
2. Click Tools, select Manage Add-ons.
3. Select Accelerators
4. Right-click the appropriate entry and click Disable
5. Click Close.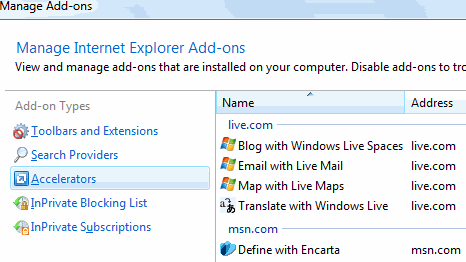 Menu Extensions
Menu extensions are supported in all versions of Internet Explorer, and information in this section applies to all versions of Internet Explorer. Menu extensions are stored in the registry, and each extension is linked to a HTML/Script file that actually powers the menu item.
Examples
"Export to Microsoft Excel" extension exports Web page selection to a Excel Spreadsheet
"Download using FlashGet" downloads the hyperlinked file using FlashGet
The Menu extensions are loaded from the following registry key:
HKEY_CURRENT_USER\Software\Microsoft\Internet Explorer\MenuExt
Each Menu extension has a subkey underneath the MenuExt branch. The (default) value in the right pane denotes the HTML/Script file used by the extension.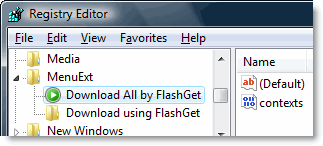 To remove a Menu extension, run Regedit.exe to start the Registry Editor. Navigate to the above location. Backup the branch first. Right-click on the corresponding subkey and choose Delete. Exit the Registry Editor.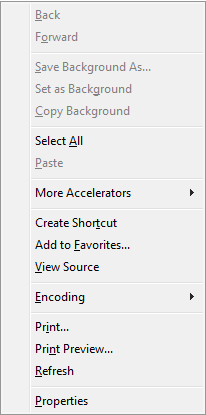 (Right-click menu, after cleanup)
---
One small request: If you liked this post, please share this?
One "tiny" share from you would seriously help a lot with the growth of this blog. Some great suggestions:
Pin it!
Share it to your favorite blog + Facebook, Reddit
Tweet it!
So thank you so much for your support. It won't take more than 10 seconds of your time. The share buttons are right below. :)
---