Image file types such as JPG, PNG, BMP and others have an "Edit" command in the right-click menu which when clicked, opens Microsoft Paint by default. If you have a third-party image editor and want to set it as the default editor when invoked from the right-click menu, this post is for you.
This post is a rewrite (for better clarity) of my post back in 2004 which was originally written for Windows XP. The information still applies to all versions of Windows, including Windows 10. However, the utility referenced in the linked page doesn't work in the latest Windows Operating Systems.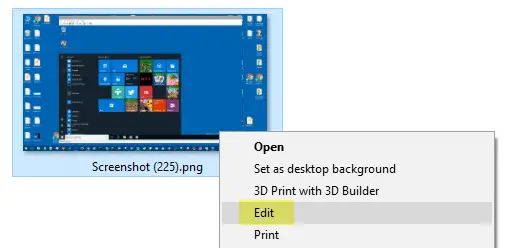 Change the default image editor opened when clicking the Edit command.
Start Regedit.exe and go to the following location.
HKEY_CLASSES_ROOT\SystemFileAssociations\image\shell\edit\command
The (default) value data below points to Microsoft Paint by default.
"%systemroot%\system32\mspaint.exe" "%1"
You can change that and set a 3rd party image editor such as IrfanView, SnagIt or Paint.NET as the default. For example, if you have IrfanView installed, you'd use the following path usually.
"C:\Program Files (x86)\irfanview\i_view32.exe" "%1"

For 64-bit version of IrfanView, the path would be:
"C:\Program Files\IrfanView\i_view64.exe" "%1"
Exit the Registry Editor.
Now, when you right-click an image file and choose Edit in the right-click menu, IrfanView would open the file.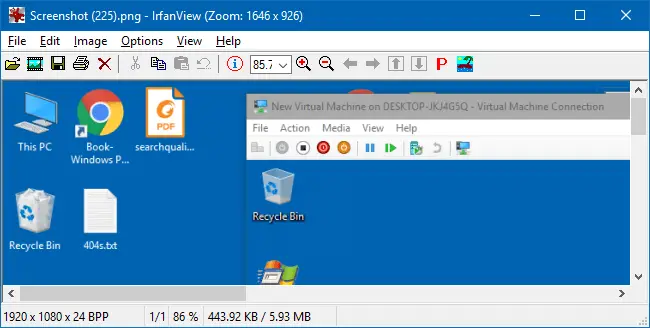 Still doesn't work. A different image editor opens when clicking "Edit"?
Note that the above registry location applies to any image file type which has the "PerceivedType" value set to "image", and doesn't have an "Edit" command defined on a per-file type/ProgID basis. For example, if an "Edit" verb exists in the following registry location, it would take priority over "SystemFileAssociations\image\shell\edit".
HKEY_CLASSES_ROOT\[ProgID]\shell\edit
Example:
HKEY_CLASSES_ROOT\PhotoViewer.FileAssoc.Jpeg\shell\edit
Assuming "PhotoViewer.FileAssoc.Jpeg" (ProgID for Windows Photo Viewer), associated with .JPG file types. So, if clicking Edit in the right-click menu opens a different editor than the one intended, check if an "Edit" verb is defined at the ProgID level for that file type. FileTypeDiag is a nice tool that gives you a complete file association dump for a specified file extension, which can be very helpful when troubleshooting.
---
One small request: If you liked this post, please share this?
One "tiny" share from you would seriously help a lot with the growth of this blog. Some great suggestions:
Pin it!
Share it to your favorite blog + Facebook, Reddit
Tweet it!
So thank you so much for your support. It won't take more than 10 seconds of your time. The share buttons are right below. :)
---