When you click Start and click on a shortcut to your personal folders such as Documents, Downloads, Pictures or Music, nothing may happen. This problem occurs if the shortcuts in the Start Menu Places folder are missing or have been tampered with. The shortcuts in Start Menu Places are common to all user accounts, and not meant to be modified by users.
(Update: Information in this article doesn't apply to Windows 10 v1809 and higher. Start Menu Places folder is no longer used in v1809 and up.)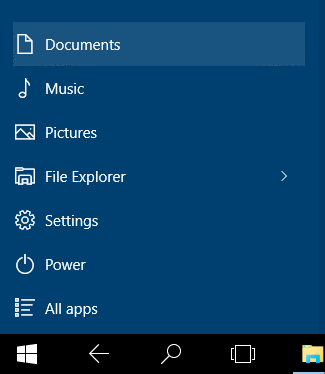 Also, in Settings, "Choose which folders appear on Start" page, the toggle buttons may be grayed out.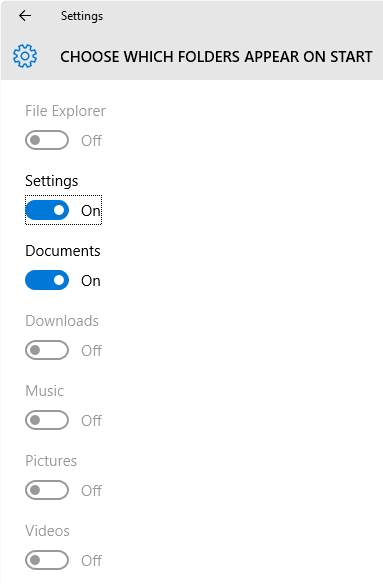 Restore Default Start Menu Places Shortcuts
To replace the corrupt or missing shortcuts with original copies, open File Explorer and browse the following folder:
C:\ProgramData\Microsoft\Windows\Start Menu Places
Right-click an empty area in the folder, click Properties, and click the Previous Versions tab.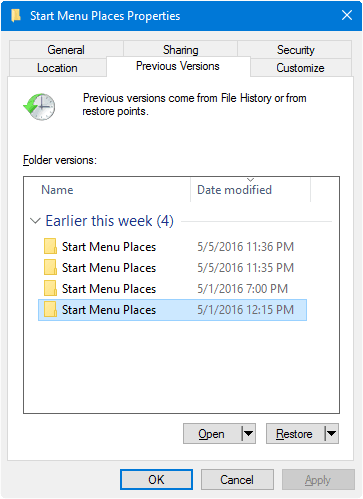 This screen shows the list of previous versions or backups of the folder (and files in it) from shadow copies. The number of items shown there depends upon the number of System Restore or shadow copies you have in your system. Choose the appropriate version which has the original, untampered version of those shortcuts, and copy it to your Start Menu Places folder.
If this issue has been seen for a long time now, and none of the shadow copies have the unmodified version of the shortcuts, then run the System File Checker. Right-click Start, click Command Prompt (Admin) and then type:
SFC /SCANNOW
Let it take its own time to complete, and when it's done, check if it has restored the original shortcuts back into the folder. If it hasn't, then the source copies may have been corrupted.
Download Start Menu Places shortcuts (defaults)
I've uploaded the Start Menu Places shortcuts, which you may find it useful if none of the above methods work. Download StartMenuPlaces.zip, unzip and extract the contents to a folder. This zip file has the entire Start Menu Places folder, including the hidden desktop.ini file. Rename your existing Start Menu Places folder, and copy the Start Menu Places folder (which you extracted from the downloaded zip file) to "C:\ProgramData\Microsoft\Windows\" directory.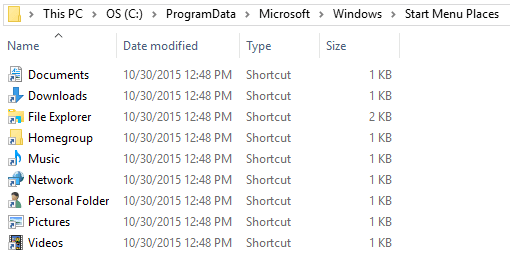 This restores your Start Menu Places shortcuts, and fixes the user folder links in Start menu.
---
One small request: If you liked this post, please share this?
One "tiny" share from you would seriously help a lot with the growth of this blog. Some great suggestions:
Pin it!
Share it to your favorite blog + Facebook, Reddit
Tweet it!
So thank you so much for your support. It won't take more than 10 seconds of your time. The share buttons are right below. :)
---