This post tells you how to delete all the bookmarks or favorites in the Microsoft Edge web browser.
Instructions for Microsoft Edge (Chromium) browser
In the new Microsoft Edge (Chromium) browser, here is how to delete your entire bookmarks/favorites:
Method 1:
Open Microsoft Edge
Click on the "Settings and More" icon (the icon showing three dots), click Favorites, Manage Favorites.
(Alternatively, you can launch the address edge://favorites/ directly to open the Manage Favorites dialog.)
Click on an item in the right panel to set the focus on it.
Press Ctrl+A keys to select all bookmarks.
Click on the Delete button that appears above.
Method 2:
Open Microsoft Edge and open the following link:

edge://version/

Note down the Profile path. For example, it may be something like:

C:\Users\ramesh\AppData\Local\Microsoft\Edge\User Data\Default

Close all instances of Microsoft Edge
Open the profile path in File Explorer
Delete or rename the file named Bookmarks. This file contains your entire favorites.
This removes all the bookmarks (for that particular profile) in Microsoft Edge Chromium.
Instructions for the old Microsoft Edge browser
The old Microsoft Edge browser doesn't provide an option to bulk delete favorites, but you can clear all your favorites by deleting the spartan.edb file in Edge's store folder for your user profile. Here is how to do that.
Delete All Edge Favorites
Close Microsoft Edge, open File Explorer and paste the following folder path in the Address bar and press ENTER:
%LocalAppData%\Packages\Microsoft.MicrosoftEdge_8wekyb3d8bbwe\AC\MicrosoftEdge\User\Default
Delete or rename the two folders namely "DataStore" and "Favorites".

One of the sub-folders in the DataStore folder contains the spartan.edb database file which has all your favorites. The "Favorites" folder contains individual .URL files for the Favorites bar, a cache location that Edge maintains.
Then, open the following folder:
%LocalAppData%\Packages\Microsoft.MicrosoftEdge_8wekyb3d8bbwe\RoamingState
Clear the contents of the folder.
Refresh the Cache
Now open Edge, don't be surprised if your favorites still show up in the Favorites bar. That's because the items in the Favorites bar are cached in the following registry key:
HKEY_CURRENT_USER\SOFTWARE\Classes\Local Settings\Software\Microsoft\Windows\CurrentVersion\AppContainer\Storage\microsoft.microsoftedge_8wekyb3d8bbwe\MicrosoftEdge\FavOrder\FavBarCache
All you need to do is click the hub button

(showing 3 horizontal lines) once, and then close Edge. Re-open Edge and you'll see an empty Favorites bar.

Alternately you can use the free EdgeManage utility to clear all your Favorites.
Recover (Undelete) Favorites that you deleted earlier
When you delete a favorite in Edge, the item is not purged from the database. Rather the favorite entry is marked as deleted and hidden from Favorites bar and Favorites panel. You may be able to recover favorites that were deleted within the last 30 days using EdgeManage. After 30 days, Edge clears the deleted favorites permanently from the database.
In EdgeManage, click the View menu and enable Show Deleted Items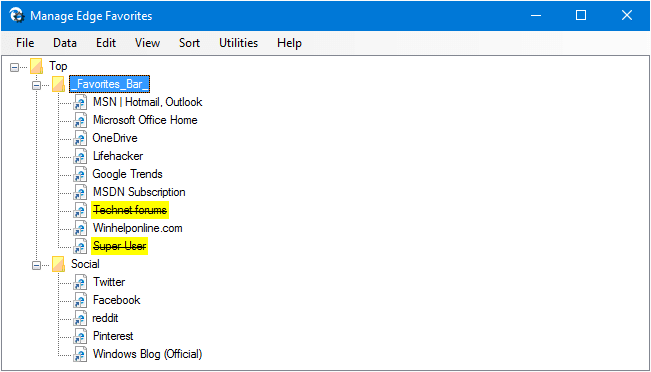 Right-click the previously deleted item (highlighted in yellow) you want to restore, and click Undelete.
Exit EdgeManage, and click Yes when prompted to save changes. This recovers your deleted favorite(s).
---
One small request: If you liked this post, please share this?
One "tiny" share from you would seriously help a lot with the growth of this blog. Some great suggestions:
Pin it!
Share it to your favorite blog + Facebook, Reddit
Tweet it!
So thank you so much for your support, my reader. It won't take more than 10 seconds of your time. The share buttons are right below. :)
---
About the author
Ramesh Srinivasan founded Winhelponline.com back in 2005. He is passionate about Microsoft technologies and he has been a Microsoft Most Valuable Professional (MVP) for 10 consecutive years from 2003 to 2012.