The Personalization options such as Background, Colors, Lock Screen, Themes, Start, and Taskbar are grayed out if Windows is not activated. This post discusses two ways to change the desktop wallpaper in an unactivated Windows installation.
In a Windows 10 device which hasn't been activated, the controls in Personalize window are locked down, and the message "You need to activate Windows before you can personalize your PC." shows at the top.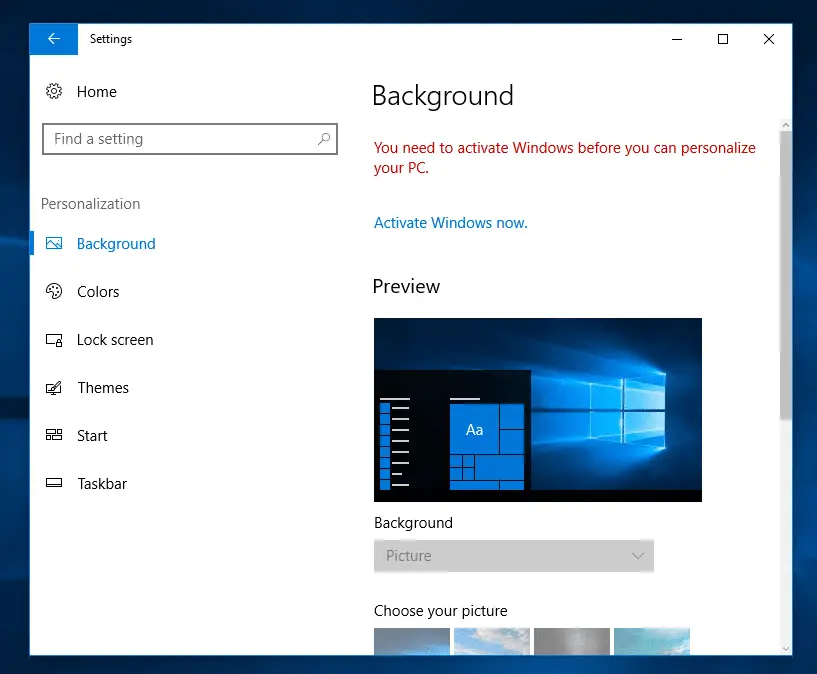 Set Desktop Background Wallpaper without Activation
Option 1: Using the right-click menu or Ribbon command
Open the folder containing wallpaper images. The stock wallpapers are located under the following directories:
C:\windows\Web\Wallpaper
C:\windows\Web\4K
C:\windows\Web\Screen

Open a folder, right-click on an image file, and click Set as desktop background.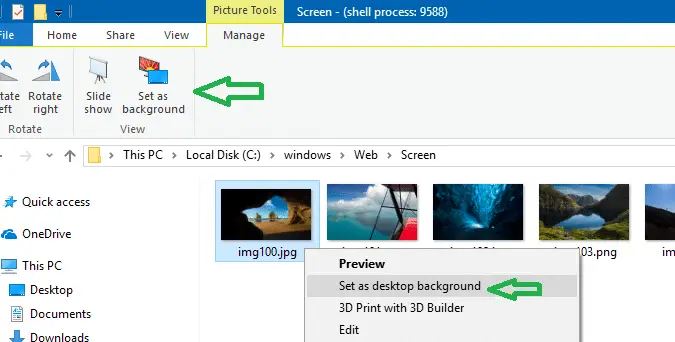 Note that you can click the "Set as background" Ribbon command that appears under the Manage tab when an image file is currently selected.
Option 2: Using Internet Explorer
Open Internet Explorer. Internet Explorer shortcut doesn't exist in the Taskbar by default. You can launch Internet Explorer by searching for it in the Start menu, or by typing iexplore.exe in the Run (Win + R) dialog.
Paste the complete image file path in the Internet Explorer Address bar and press ENTER. You can type the path to an image file on the local computer or a website address.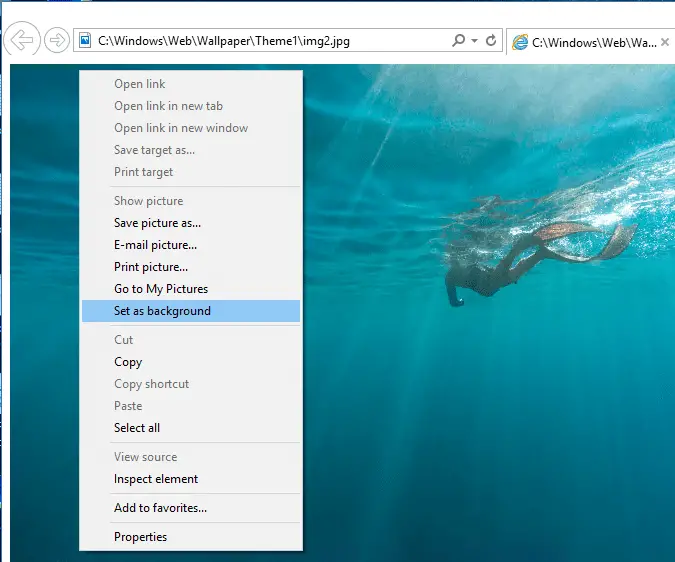 Right-click on the image and click "Set as background".
That's it! These tricks can be useful when you're testing Windows preview builds (without being activated) in virtual machine setup.
---
One small request: If you liked this post, please share this?
One "tiny" share from you would seriously help a lot with the growth of this blog. Some great suggestions:
Pin it!
Share it to your favorite blog + Facebook, Reddit
Tweet it!
So thank you so much for your support. It won't take more than 10 seconds of your time. The share buttons are right below. :)
---