If you have an iPad Air 4th generation device and looking to buy a touch keyboard folio case, you have two options. One is the Apple Magic Keyboard, and the other (affordable for most) is the Logitech Folio Touch keyboard Case for iPad Air (4th gen).
Apple Magic Keyboard for iPad Air 4 sells for Rs. 27,900 (MRP), and Logitech's product sells for almost half the price. Many people wonder where to buy a Logitech Folio Touch keyboard Case for iPad Air (4th gen) in India.
Where to Buy Logitech Folio Touch keyboard for iPad Air 4 in India?
The Logitech India website listed the product, but the portal didn't have the option to buy from their site. Amazon India didn't have this product listed — all I could find was the Logitech folio for iPad Air 3 (without touch) and the regular iPad devices.
Upon searching the web, I found that the only Indian e-commerce portal which sells the item online (as of this date) is Golchha Computers.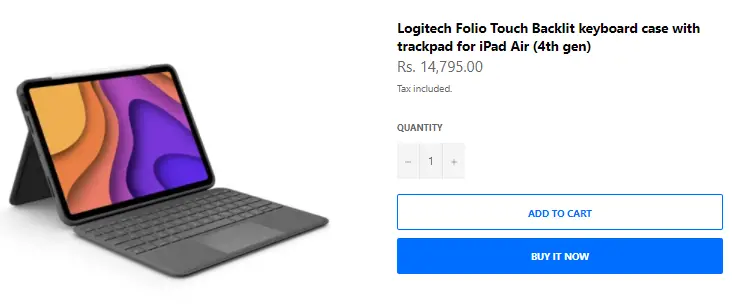 As I hadn't heard about Golchha Computers before (and their website didn't appear on the 1st page of Google search results), I was a little bit hesitant to place an order from them.
Logitech Folio Touch Backlit keyboard case with trackpad for iPad Air:
https://golchhait.com/products/logitech-folio-touch-backlit-keyboard-case-with-trackpad-for-ipad-air-4th-gen
But, after seeing the reviews and photos of the Golchha Computers (a brick-and-mortar store) shop located at Sp Road, Bangalore, I was convinced that the folks are genuine and decided to buy from them.
Golchha Computers, Sp Road - Justdial:
https://www.justdial.com/Bangalore/Golchha-Computers-Opposite-To-Amar-Radio-Corporation-SP-Road/080PF001992_BZDET
I placed an order of the item @ Rs. 14,795.00 and paid via RazorPay secure payment. They confirmed the order within minutes and packed the item. He's the timeline: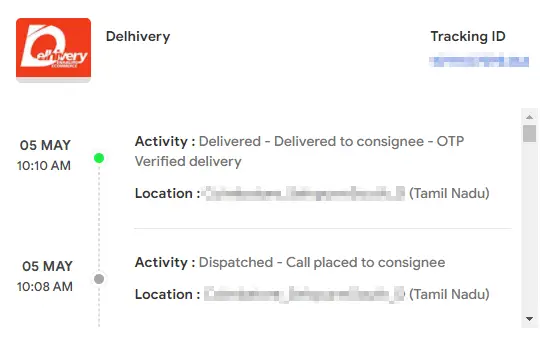 05 MAY 2021 10:10 AM
Delivered - Delivered to consignee - OTP Verified delivery

05 MAY 2021 08:52 AM
Pending - Shipment Received at Facility

04 MAY 2021 10:43 PM
In Transit - Scanned Through X-Ray

03 MAY 2021 06:05 PM
In Transit - Shipment picked up

01 MAY 2021 12:53 PM
Manifested - Consignment Manifested
Bangalore_Soukyaroad_GW (Karnataka)

01 MAY 2021 

12:36 PM
Order Placed
Within 20 minutes of placing the order, Golchha Computers packed it and booked the item with the Delhivery courier agency for pickup. Their service was amazing. On May 5, I received the parcel, and it was an OTP-verified delivery. If there hasn't been a Covid19 lockdown situation in Karnataka, I believe the shipment would have arrived a day or two earlier.
Thank you, Golchha Computers, for the excellent service!
---
One small request: If you liked this post, please share this?
One "tiny" share from you would seriously help a lot with the growth of this blog. Some great suggestions:
Pin it!
Share it to your favorite blog + Facebook, Reddit
Tweet it!
So thank you so much for your support. It won't take more than 10 seconds of your time. The share buttons are right below. :)
---