It's a nice feeling when you come across a hidden setting in Windows, be it a small tweak or a big usability feature. One such little feature is the Snapshot (screenshot) Sound Event that I'm going to write about today. In Windows, you can set a .wav file to play every time you use the Print Screen key for taking screenshots. Doesn't that lovely camera shutter sound come to mind when talking about screenshots?
Activating the Hidden "SnapShot" Sound Event
Open the Registry Editor (Regedit.exe) and go to:
HKEY_CURRENT_USER\AppEvents\Schemes\Apps\.Default
Create a subkey named SnapShot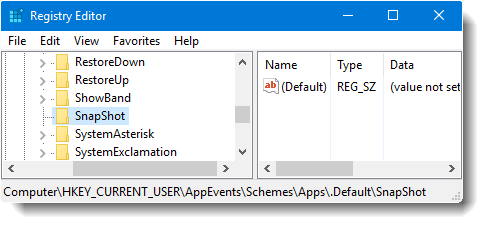 Exit the Registry Editor.
---
Alternately, you can type the following command in Run dialog (WinKey + R)
cmd /k reg add HKCU\AppEvents\Schemes\Apps\.Default\SnapShot
Type EXIT at the Command Prompt window to close it. This creates the SnapShot subkey under the specified registry path.
---
Click Start, type sounds. From the search results, select Change system sounds.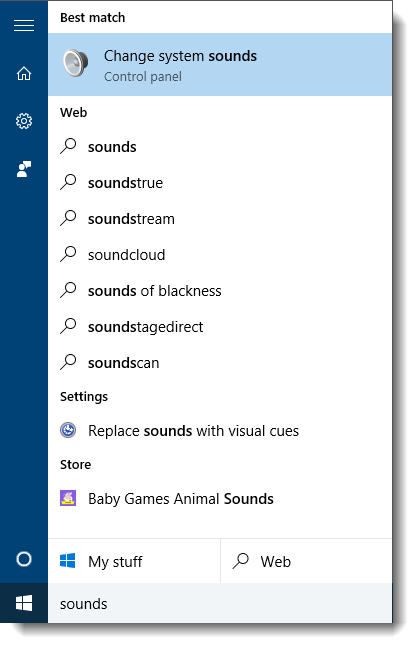 Scroll down the Program Events list box until you see the SnapShot event.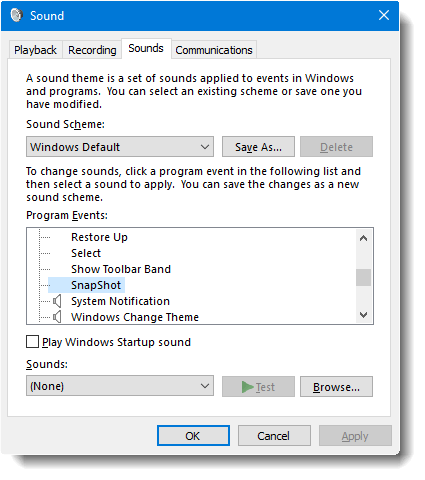 Click Browse… and locate the camera shutter wav file that you've downloaded.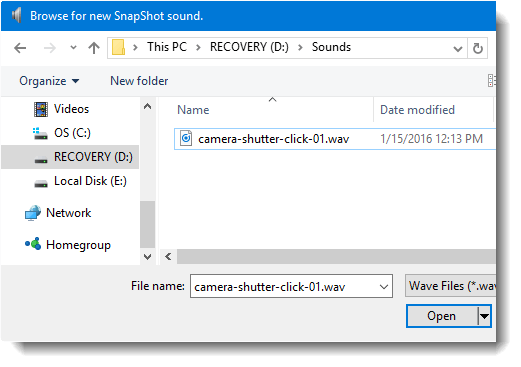 There are some nice camera shutter sounds (.wav files) available on the internet, some are for free download and others are available for cost. I downloaded one from Camera Sound Effects – Wav Mp3. The MakeUseOf blog has a nice post on how to Spice Up Your Windows Sound Effects With Amazing Resources. It gives you the list of websites from where you can download sound files. Don't forget that the the Windows sound schemes supports only .wav files.
Click OK.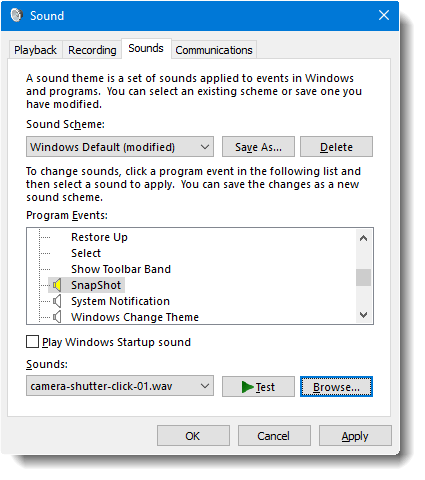 Thats' it!
Note: If you're using a 3rd party tool such as Snagit and the Print Screen hotkey is taken over by any such utility, the camera shutter sound doesn't play. The SnapShot sound event works in Windows Vista, 7, 8 and 10. I haven't tested this in a Windows XP computer yet. And when surfing the web, I learnt that this feature is already available in Mac OS; the camera shutter sound is played when taking a screen capture.
---
One small request: If you liked this post, please share this?
One "tiny" share from you would seriously help a lot with the growth of this blog. Some great suggestions:
Pin it!
Share it to your favorite blog + Facebook, Reddit
Tweet it!
So thank you so much for your support. It won't take more than 10 seconds of your time. The share buttons are right below. :)
---