Dell SupportAssist is an OEM software that installs the latest device driver updates and does hardware diagnostic checks on your computer. The Dell SupportAssist installer may be glitchy on some computers, where the error "Installation failed" may occur when installing or updating Dell SupportAssist.
Installation failed

We were unable to install SupportAssist. Please reboot your PC and try again.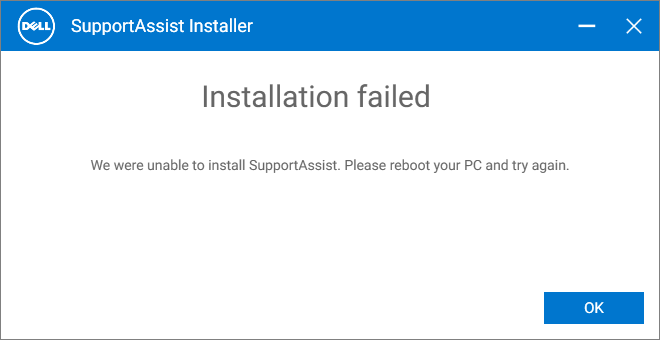 Resolution
To fix the  Dell SupportAssist "Installation failed" error, cleanly remove the app and install the latest version from Dell's website.
Step 1: Uninstall Dell SupportAssist via Programs and Features
Open Control Panel → Programs and features.
Right-click "Dell SupportAssist" and choose Uninstall.

Similarly, uninstall Dell SupportAssist Agent, Dell SupportAssist Update Plugin, and Dell SupportAssist Remediation, if they're listed.
Restart Windows.
Try to install the latest version of Dell SupportAssist. You can download it from SupportAssist for Home PCs | Dell USA.
If the installer doesn't work, proceed to the next method.
Step 2: Use Program Install and Uninstall Troubleshooter
Download the Program Install and Uninstall Troubleshooter tool from Microsoft. It's available from the Fix problems that block programs from being installed or removed Microsoft Support site. The direct download link for the tool is below:

https://download.microsoft.com/download/7/E/9/7E9188C0-2511-4B01-8B4E-0A641EC2F600/MicrosoftProgram_Install_and_Uninstall.meta.diagcab

Launch the "Program Install and Uninstall Troubleshooter" tool.

Click Next.

Click "Uninstalling"
Select "Dell SupportAssist" from the list.

Click Yes, try uninstall.
If the troubleshooter tool doesn't help, proceed to Step 3.
Step 3: Delete Dell SupportAssist Files and Services
Open an admin Command Prompt and run the following commands to delete the Dell SupportAssist services.

SC.EXE DELETE DDVDataCollector

SC.EXE DELETE DDVRulesProcessor

SC.EXE DELETE DDVCollectorSvcApi

SC.EXE DELETE SupportAssistAgent

SC.EXE DELETE DellTechHub

SC.EXE DELETE DellClientManagementService

You should get the message DeleteService SUCCESS (or "OpenService FAILED 1060" which denotes the service no longer exists) for each command.

The above steps uninstall the following Dell services:

Dell Data Vault Service API
Dell Data Vault Collector
Dell Data Vault Processor
Dell Client Management Service
Dell TechHub
Dell SupportAssist

Restart Windows and delete the following folders if they still exist:

C:\ProgramData\SupportAssist
C:\ProgramData\Dell\SARemediation
C:\ProgramData\Dell\SupportAssist
C:\ProgramData\Dell\SupportAssistHardwareDiagnosticsSubAgent
C:\ProgramData\Dell\SupportAssistOsRecoverySubAgent
C:\ProgramData\Dell\SupportAssistServiceSubAgent

See if you can install the latest Dell SupportAssist app.
If nothing helps, please register at the Dell Community Forums and make a new post. See also Solved: Re: Dell Support Assist Freezing or Crashing – Dell Community.
---
One small request: If you liked this post, please share this?
One "tiny" share from you would seriously help a lot with the growth of this blog. Some great suggestions:
Pin it!
Share it to your favorite blog + Facebook, Reddit
Tweet it!
So thank you so much for your support. It won't take more than 10 seconds of your time. The share buttons are right below. :)
---